Rana Plaza survivours demand life term compensation ahead of anniversary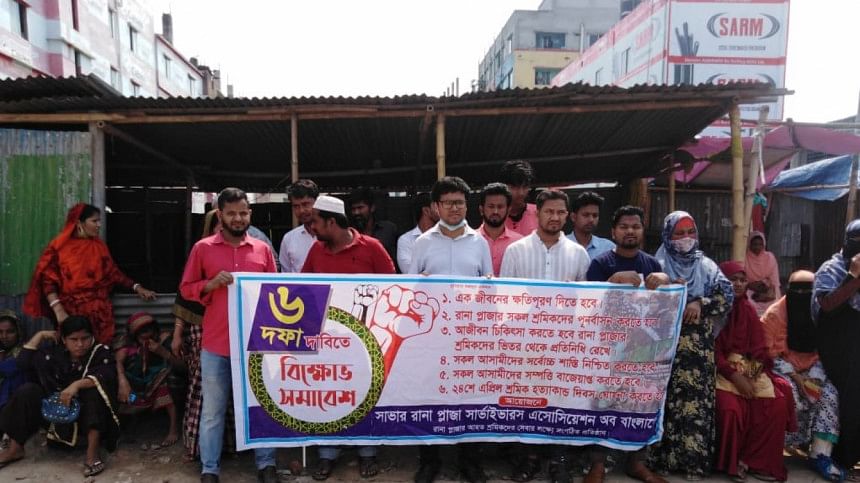 The survivors of the Rana Plaza building collapse -- the deadliest industrial disaster in the country's history—demonstrated in Savar this morning to press home their six-point demands including life term compensation for the injured workers.
The workers under the banner of "Savar Rana Plaza Survivours' Association of Bangladesh", held the programme in Savar Bazar Bus Stand area around 10:00 am, reports our Savar correspondent.
Their other demands include rehabilitation of the workers, lifetime treatment facility, ensuring maximum punishment and confiscation of property of all those responsible for the incident and declaring April 24th as the "Workers' Murder Day".
Nilufar Yesmin, a survivour of Rana Plaza carnage, who took part in the protest, said she used to work on the fourth floor of Rana Plaza.
She is now living an inhumane life after she sustained injuries in her legs, waist, spine and head in the incident. "I can't afford treatment due to lack of money," she said.
Nilufar said "My husband left me five years ago due to my illness. I was forced to send my young son to work. It's not only me, thousands of injured workers like me are living inhumane lives."
Mahmudul Hasan Hriday, president of Savar Rana Plaza Survivours Association of Bangladesh, said 1,136 workers were killed and thousands of workers were injured in the tragedy on April 24 in 2013.
"It's been a long time, but our demands are yet to be met," he said.