Rajuk's Jhilmil housing project: 5 years gone by, work yet to start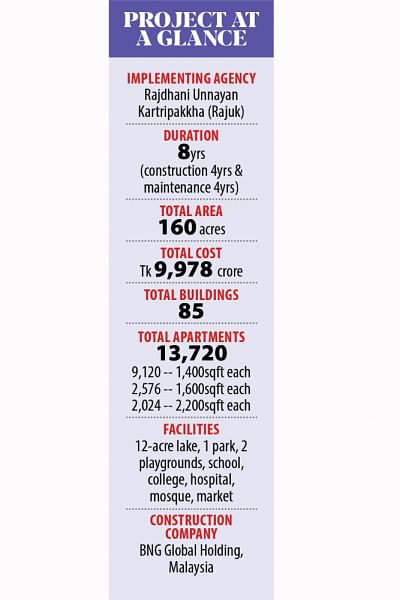 The much-hyped housing project taken up five years ago for middle-income people in Keraniganj is in limbo, as the authorities have yet to start construction work of the Tk 9,978-crore mega scheme.
Rajdhani Unnayan Kartripakkha (Rajuk) took up the Jhilmil Residential Park project, one of its largest housing initiatives, under a public-private partnership arrangement in 2017.
The project was taken up to reduce the growing pressure on residential spaces in Dhaka by building houses on the outskirts of the capital.
Rajuk signed a deal with Malaysia-based BNG Global Holdings in November 2017 to build 13,720 flats in four years.
But the project has seen little progress, and Rajuk authorities now say they will sign a fresh deal to extend the deadline before construction can start.
Rajuk officials attributed the delay to the Covid-19 pandemic. A recent report on the project's progress also blamed complexities over importing some vital construction materials as well as appointment of an Independent Panel for design and structure-related consultancy.
The report said the site was handed over to the private partner on May 10, 2018, after construction of the security fence and a site office with utility services for the workers.
However, a substantial amount of construction materials needs to be imported with high import duty, the report said.
In January 2019, the company applied for 100-percent duty waiver, sending letters to the Prime Minister's Office and NBR to this effect. The amount would stand somewhere between Tk 500 crore and Tk 600 crore, Rajuk officials said.   
"This issue needs to be resolved," said the progress report.
According to the project proposal, BNG Global will build 85 high-rise buildings -- 60 having 20 storeys each and 25 having 25 stories each.
Flat size will range from 1,400 to 2,200 square feet.
The "earthquake-resistant" buildings will be made using the latest construction technology -- Industrial Building System (IBS) -- and will have lake, park, playground, school, college, hospital, mosque, market, and community spaces.
Established in 2009, BNG Global lists China, Korea, Sri Lanka and Bangladesh as its clients. Its website claims it works in the area of healthcare, education, energy and sustainability, research and development and construction management, but provides no information about its previous construction works. 
Seeking anonymity, a number of Rajuk officials questioned its selection for the Jhilmil project.
Architect Tarique Hasan, who designed the project, said they already handed over the architectural and structural designs to BNG Global.
"But we did not give them the detailed design yet. We cannot do so before the construction starts," he told The Daily Star.
Rajuk Chairman Anisur Rahman Miah said the project faced frequent delays due to Covid pandemic.
"Sometimes we had lockdowns in our country, and at other times Malaysia was in lockdowns. The project faced delay because of this," he said.
"We hope to sign the fresh deal on a new deadline in the next five to six months. It will take another six to seven months to start the construction work," he added.
BNG Global did not respond to our queries via email.
Its Dhaka office also declined to comment.
"We cannot comment on the project from here. You need to contact our head office for any information," an official of the company said.