Putting on a show in response
AL takes over empty capital on day of BNP rally
Leaders and activists of the ruling Awami League and its associate bodies took a position at key points of the capital yesterday, as BNP held its rally at Golapbagh ground.
They chanted slogans, brought out rounds of processions, paraded the roads on motorbikes in groups, and played speeches of Bangabandhu Sheikh Mujibur Rahman along with patriotic songs.
The AL central office on Bangabandhu Avenue was filled with the party's people, while a completely different picture was seen at BNP headquarters in the capital's Nayapaltan area, which remained padlocked.
The city streets, which usually bustle with people even during the weekends, wore a deserted look in absence of adequate public transport. This situation led to city dwellers suffering greatly.
The AL central office on Bangabandhu Avenue was filled with the party's people, while a completely different picture was seen at BNP headquarters in the capital's Nayapaltan area, which remained padlocked.
Four correspondents of this newspaper found that AL men set up pandals to remain in the streets in some areas, including Mirpur-11, Shewrapara bus stand, Adabor Shampa Market area and Gabtoli bus stand.
Groups upon groups started to gather at AL's central office. Around 1:00pm, the office and street in front of it brimmed with activists.
AL Presidium Member Mofazzal Hossain Chowdhury Maya said, "BNP wanted to establish a reign of terror in the entire city in the name of the movement. But they failed to do so."
"They wanted to gather 10 lakh people in Nayapaltan but could not," he said.
The activists present there brought out rounds of processions and chanted slogans like "action, action, direct action", "action against Khaleda Zia", and "action against Tareque Rahman".
The ruling party members also took positions in front of AL Helal Clinic in Mipur-10, Shewrapara, Farmgate intersection, Green Super Market area, and Shahjahanpur intersection.
Besides, Bangladesh Chhatra League (BCL) leaders and activists took positions at Shaheed Minar, Shahbagh, TSC, and Palashi intersection, said witnesses.
Ariful Islam, secretary of DU Chhatra League unit, said they occupied the areas by complying with an organisational decision.
Yesterday, BCL men blocked people in Nilkhet area -- an entrance to the DU campus -- and checked their phones. While checking, they beat up five youths suspecting their link with Chhatra Dal.
The BCL men then handed them over to police.
Nur Mohammad, officer-in-charge of Shahbagh Police Station, said they detained five suspected activists of Chhatra Dal for interrogation.
Although the AL party office was full of activists, none were able to visit the BNP party office, as law enforcers blocked both roads leading to the establishment.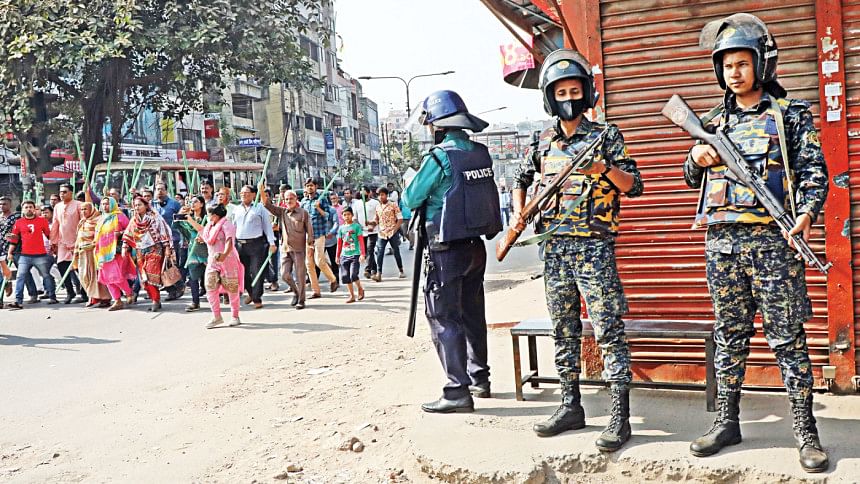 In the morning, correspondents of this newspaper, who tried to reach the BNP office, found that police put barricades on the road from Nightingale intersection to Fakirapool intersection, preventing vehicles and pedestrians from moving through the area.
At 11:45am, journalists were allowed to enter the road through Nightingale intersection. They were allowed to go in front of the BNP office. The correspondents then found the office padlocked and under heavy guard of law enforcers.
Meanwhile, many city dwellers said fearing the possibility of violence due to a face-off between activists of the two parties, only those who had a pressing need to leave their houses were seen on the streets.
Although the presence of city dwellers was thin, those who were out suffered as almost all forms of public transport were unavailable.
Around 8:15am, Rafiqul Islam, a private-job holder, said he waited for public transport for over 15 minutes at Mirpur-10 bus stand.
"There was no bus at the stand. I finally took an auto-rickshaw. While going towards Farmgate, not a single bus crossed me. I did not see any buses on the opposite side either," he said.
Public buses were hardly seen in Panthapath and Kalabagan areas on Mirpur Road, and Mohakhali, Mirpur-1, Gabtoli, and Uttara areas.
Many residents also alleged that rickshaw pullers and auto-rickshaw drivers charged extra fares.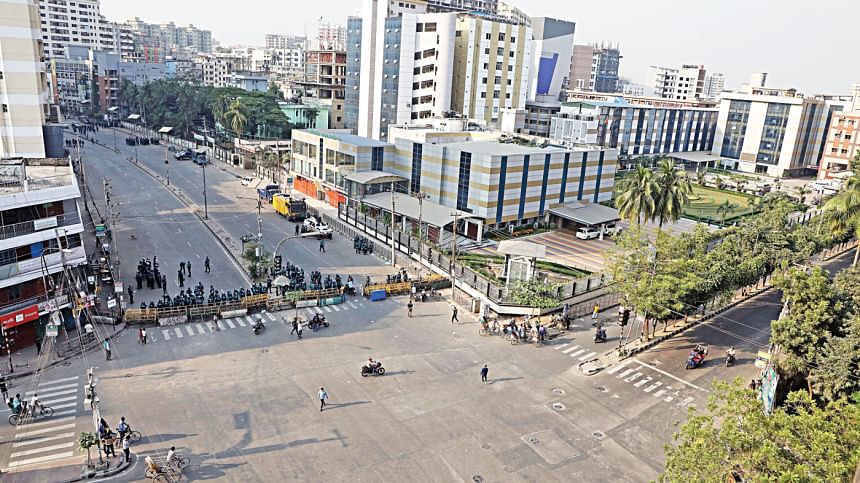 Talking to The Daily Star, Khondaker Enayet Ullah, secretary general of Bangladesh Road Transport Owners Association, said, "There were some people on the roads in the morning. That's why few buses were running. Due to the low number of passengers, many bus owners took their vehicles off the road."
Enayet Ullah also said a car was burnt in Mirpur area yesterday.
"That's why the bus owners were afraid. There was no instruction from the government or the administration to keep buses off road," he added.