PM confers Ekushey Padak 2023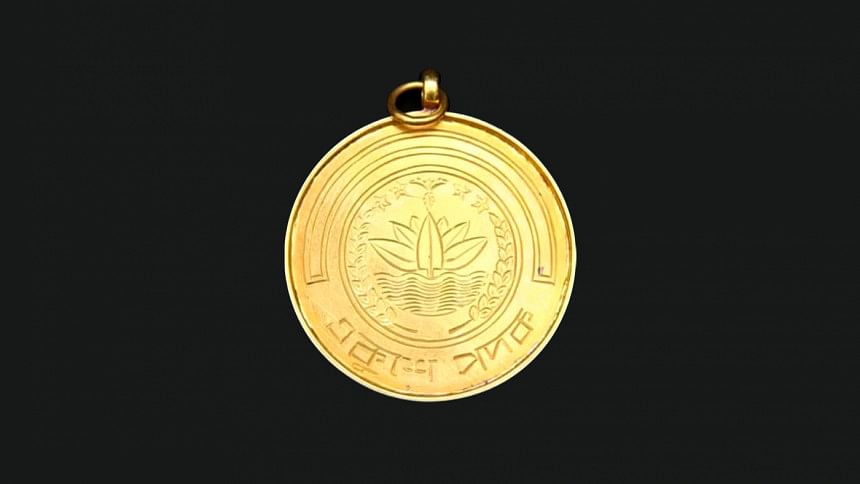 She handed over the Ekushey Padak, the country's second highest civilian award, at a ceremony at Osmani Memorial Auditorium
Prime Minister Sheikh Hasina today conferred the 'Ekushey Padak 2023' to 19 eminent personalities and two organisations in recognition of their contributions to various fields.
She handed over the Ekushey Padak, the country's second highest civilian award, at a ceremony at Osmani Memorial Auditorium in Dhaka.
The Cultural Affairs Ministry organised the event on the occasion of "Amar Ekushey" and International Mother Language Day.
Khaleda Manzoor-e-Khuda, freedom fighter AKM Shamsul Haque (posthumously), and Haji Mohammad Majibor Rahman received the award for their roles in the Language Movement.
Masud Ali Khan and Shimul Yusuf received the prestigious award for their contributions in acting, while Manoranjan Ghoshal, Gazi Abdul Hakim and Fazal-e-Khuda (posthumously) for music, Jayanto Chattopadhyay for recitation, Nawazish Ali Khan for Shilpakala (arts), and Kanak Chanpa Chakma for painting.
Besides, Momtaz Uddin (posthumously) was given the award in the Liberation War category, Md Shah Alamgir (posthumously) in journalism, Md Abdul Majid in research, Professor Mazharul Islam (posthumously) in education, Saidul Haque in social service, Manjurul Islam (posthumously) and Akhter Uddin Mia (posthumously) in politics, and Maniruzzaman in language and literature.
Bangladesh National Museum received the award in the category of education and Bidyanondo Foundation in social service.
Each awardee received a gold medal, a replica of a medal, a certificate of honour, and a cheque worth Tk 4 lakh.
State Minister for Cultural Affairs KM Khalid chaired the award-giving ceremony, while Cabinet Secretary Md Mahbub Hossain conducted it and read out the citations of the award recipients.
Cultural Affairs Secretary Md Abul Monsur delivered the welcome address.
The Ekushey Padak was introduced in the memory of the martyrs of the 1952 Language Movement.