People suffer for delay in roadwork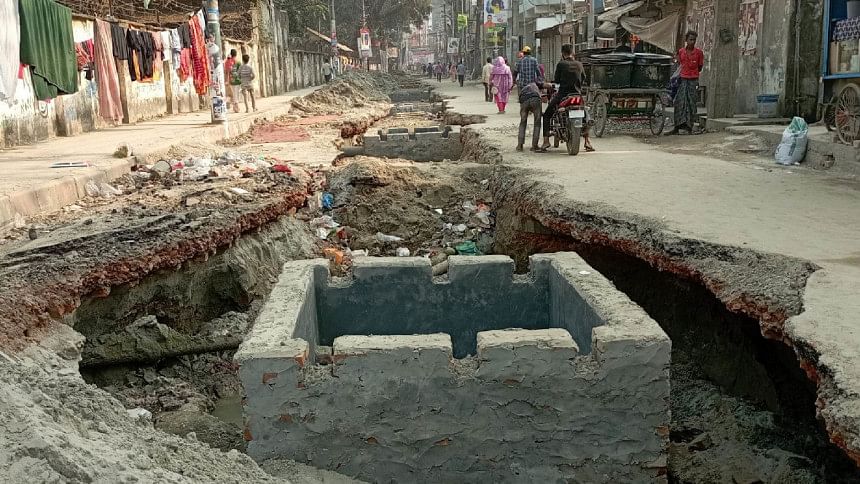 The alleged delay in the construction of Kali Shankar Guha Road in Mymensingh's Panditbari is causing untold suffering to hundreds of city dwellers, especially office-goers and students, for over a month now.
This important road connects several schools, colleges, district judge courts and divisional government offices.
The construction work of the road started a month ago, but due to the slow pace of the work, it would take another month to be complete, said workers' supervisor Abdul Jalil.
Jalil said now they are setting up pipelines to connect it with the main drain of the city.
Locals, however, alleged that Faridpur Jannat Construction, who got the work order, has been doing the work as per their will as there is no proper monitoring.
Mohammad Ali, a guardian, said hundreds of students, guardians and teachers have to face immense trouble while crossing the under-construction road.
During a recent visit to the area, this correspondent saw only a few labourers were engaged by the contractor concerned.
An employee at Mymensingh Department of Environment (DoE), preferring not to be named, said hundreds of service seekers at different government offices have been facing untold sufferings since the start of the pipeline installation work.
As there is no alternative way, people have to cross the area using the damaged footpaths, taking on serious risk, he added.
Rabindranath Pal, a local journalist, said household wastes are being dumped beside the road as garbage trucks are unable to enter the area due to the construction work.
Another local Subinoy Das said schoolgoing children are the worst sufferers as the road has turned too risky for them to walk.
Contacted, Mohammad Azaharul Haque, assistant engineer at Mymensingh City Corporation, said they are putting pressure on the construction firm to complete the road work as soon as possible to mitigate people's sufferings.