Energy crisis: Piecemeal steps won't solve it
Badrul Imam tells The Daily Star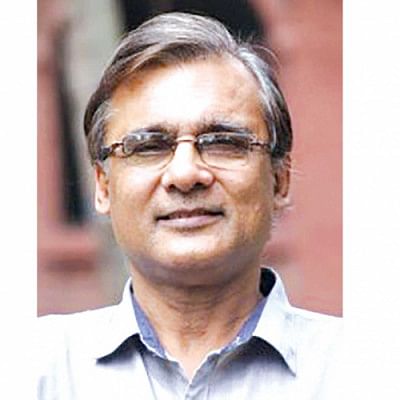 The government has shut down diesel-run power plants and mulls some other steps to tackle the ongoing energy crisis.
But how effective will the measures be?
The Daily Star spoke to Badrul Imam, energy expert and former professor of geology at Dhaka University, for some insights into the matter.
According to him, a comprehensive assessment of the situation was not done before deciding to shut down the power plants.
He believes that instead of taking such temporary measures, the government should take up specific and effective plans.
"Did the government take note of the overall situation before making such a decision? Or was it just to say 'see, we have shut down the diesel-run plants'?" the former professor asked.
"Before shutting down the power plants, it should have come up with estimates on how much energy will be preserved by doing so.
"Despite the closure of the plants, diesel use in other sectors is bound to rise [due to the crisis]. The generators that we use in our farms, factories and homes -- they all run on diesel. Load shedding will only increase the use of the fuel in these generators."
Badrul further said, "This was a piecemeal decision…Our problems can't be solved by piecemeal management ..."
Due to such an approach, the chances of solving the problem have become slim.
According to the expert, the main focus should be on energy generation from native sources.
"The current state we are in is thanks to our liquified natural gas [LNG] purchases.In the global market, the price of LNG is $40 per MMBtu . But we get local gas at $1-3 at best per unit. Thus, we should focus on the gas reserves we have -- the one geologists can't stop talking about.
"We have to take up specific and appropriate plans. Geologists across the globe say the Bengal delta is a highly prospective gas-rich province and this a textbook statement. So there really is no reason for us to not have abundant gas reserves. Why aren't we focusing on that?"
Badrul also said, "Till date, we have utilised 18 to 20 trillion cubic feet [TCF] of gas. However, geologists believe we still have more than twice that amount."
According to a survey conducted by the USGS-Petrobangla, the amount of undiscovered gas in Bangladesh is 32 TCF, while another survey, conducted by the Norwegian Petroleum Directorate and Bangladesh Energy and Mineral Resources Division, puts the amount at 42 TCF.
"We are claiming there's a gas crisis. What is the basis of this claim? This is an unwise statement and we must be realistic. We need wide-scale exploration drives, and only that will help us find a solution."
The government is also considering keeping petrol pumps closed one day a week.
About this, he reiterated, "Piecemeal management will not be enough to solve the current crisis. This [decision] will only increase the public sufferings as people will not get petrol and will have to wait in queues."
He concluded, "Only we are to blame for the current situation. This problem was man-made, and we created it ourselves. We need to come out of it ourselves.
"We have the key to solving this problem and we need to unearth undiscovered gas reserves and extract the gas as soon as possible."