No colours in the chars on Eid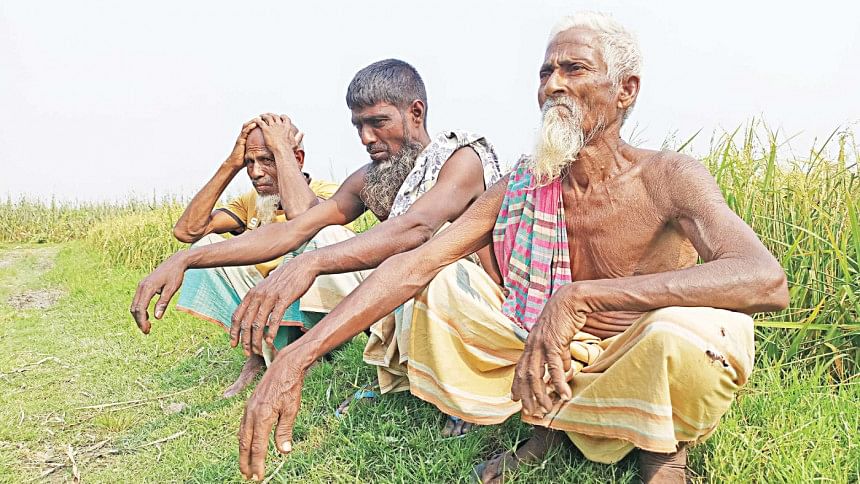 Mobarak Ali (67) is a farmer from Char Gobordhan area on the Teesta river bed in Lalmonirhat.
While Eid is supposed to bring renewed hope and happiness for everyone, that was not the case for him and the families of his two sons. On the morning of Eid, he woke up to the cries of his four grandchildren. They did not get any new clothes for the occasion, thanks to untimely floods and storms damaging their crops.
Mobarok and his sons, whose sole source of income is farming, took a loan to plant various crops, including paddy and maize, on their lands. However, all the crops were left to ruin, driving the family to further poverty.
"My wife and I don't mind not getting new clothes. Only last year we were so happy during Eid. I cannot stand the tears of my grandchildren," said Mobarak.
"Eid has made its due arrival like every year, but there is no joy for us on this occasion. We don't even have the means to arrange food for Eid. I only said my prayers at the local Eidgah field. That was the extent of the celebration in our household," he added.
Like Mobarak, all farmers of the said char passed Eid in distress. Nazar Ali, 58, a farmer at Char Sardob of ​​the Dharla river basin, said only a few people got new clothes and good food but for the most, the occasion had nothing in store.
The situations were similar in the Dudhkumar and Gangadhar river basins as well, where the colours of the festivities did not touch people's lives. Their Eid was one afflicted with poverty and devoid of new clothes, good food or anything that represents a celebration.