Eid journey home: Largely hassle-free, yet 40 die on roads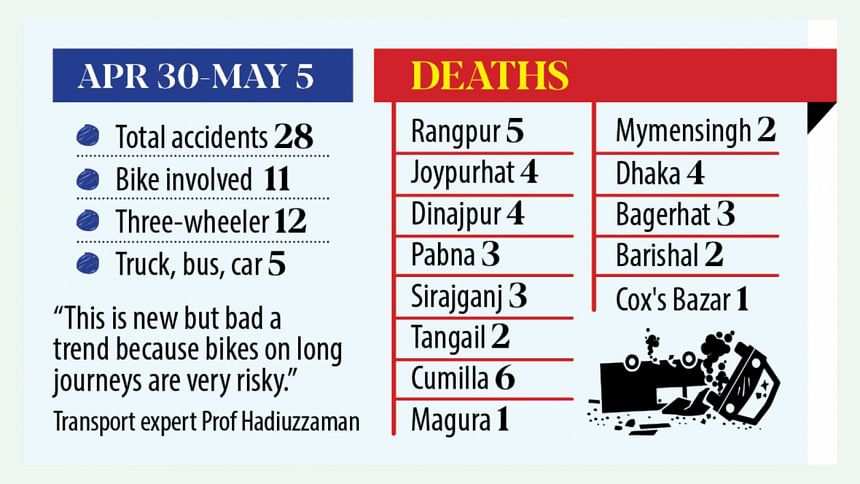 People's Eid journey home was unusually smooth with less hassle than before but crashes claimed at least 40 lives during the holidays.
Illegal and risky three-wheelers and bikers on largely empty roads were behind most of the crashes since Eid day.
At least 27 others were also injured in the 28 crashes in 13 districts between Saturday and yesterday.
Most of the crashers were on Tuesday (Eid day), Wednesday, and yesterday.
Bikes were involved in 11 and three-wheelers in 12 of the 28 crashes.
The number of accidents is believed to be much higher as many crashes go unreported.
Usually, there are more crashes after the holidays when people return to the capital and there is not as good monitoring by law enforcers. 
On Saturday, tens of thousands of people left Dhaka to celebrate the Eid. Over 1 crore active mobile SIM cards left Dhaka between April 27 and May 1, giving a hint about the rush.
Although some possible bottlenecks on Dhaka-Tangail-Rangpur and Dhaka-Mymensingh highways and two ferry terminals on the Padma had been concerns before Eid, strict monitoring by the authorities, proper management at choking points, and some people's departure from Dhaka well ahead of the holidays made the Eid journey for others relatively smooth, transport expert Prof Hadiuzzaman said.
He, however, said a large number of people left Dhaka on motorcycles, which is an ominous sign because bikes on long journeys are very risky.
He said the number of crashes increased from the Eid day as bikes, microbuses, and three-wheelers drove recklessly in light traffic.  
Hadiuzzaman, also director of Accident Research Institute of Buet, said the authorities should increase monitoring today and tomorrow when a huge number of people are likely to return Dhaka.
BIKES, THREE-WHEELERS
In Rangpur, at least five people were killed when a microbus collided head-on with a locally-made three-wheeler at Soleyshah Bazar on Rangpur-Dinajpur highway on Wednesday.
The microbus, heading for Saidpur of Nilphamari from Rangpur, crashed into the three-wheeler around 7:00pm, leaving three people, including a couple, dead on the spot.
Locals rushed the others to Rangpur Medical College Hospital where two more died.
Dulal Hossain, officer-in-charge of Gangachara Police Station, said all the victims were in the three wheeler.
The microbus driver fled the scene.
In Joypurhat, four people were killed in three accidents on Saturday and Thursday.
According to police, Shimul and Shanto were on a bike. When the bike reached Puranpoil of Joypurhat-Hili Road, it hit a roadside tree, leaving Shimul dead on the spot. Doctors declared Shanto dead at a Bogura hospital.
Two others in the district died in road crashes involving three-wheelers.
In Dinajpur, four people were killed road in crashes involving bikes and three-wheelers yesterday.
In Sirajganj, three people were killed and five others injured in bike and three-wheeler accidents on Eid day.
In Pabna, three people were killed and two injured in two crashes involving bikes, three-wheelers and a truck on Wednesday and yesterday.
In Tangail, two bikers were killed and another injured on Tuesday.
In Cumilla, six people were killed in four accidents between Eid day and yesterday. Bikes, three-wheelers and cars were involved in those.
In Fakirhat of Bagerhat, three people were killed and 15 others injured in a head-on collision between a bus and a truck on Sunday.
The dead included the two drivers and a 10-month-old child, locals said.
Four people were killed in Dhaka, two each in Mymensingh and Barishal, and one each in Magura and Cox's Bazar.