Nat'l Energy Security Day: High time to start gas exploration
Experts say excessive dependence on LNG imports pose threat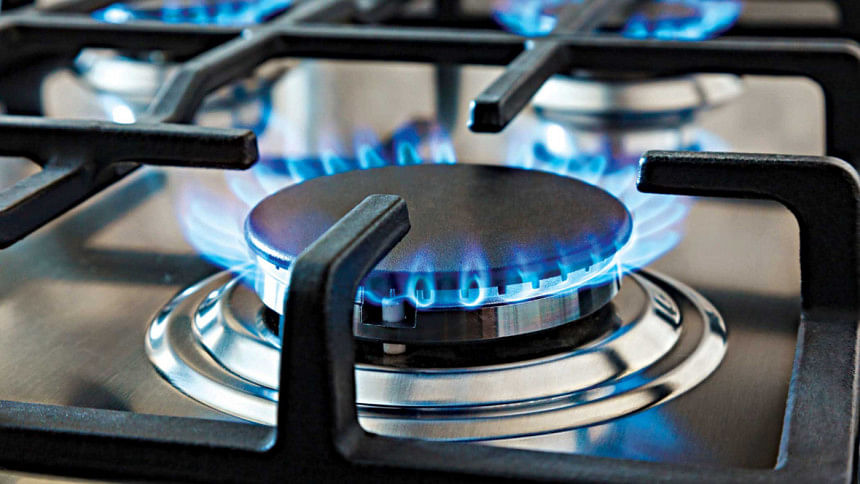 With local gas production on the wane, import dependency in the power and energy sector is on the rise, in what can be viewed as a threat to national energy security, according to experts.
The liquefied natural gas (LNG) import ratio has reached the amount of gas produced by local gas companies. Yet, the power plants and industries are not getting enough gas to operate properly.
Bapex, Bangladesh Gas Fields Company and Sylhet Gas Fields Company produce around 24-25 billion cubic feet (BCF) of gas in a month whereas the LNG import stood at around 22-23 BCF, according to the latest report of the hydrocarbon unit of the ministry of power, energy and mineral resources.
Besides, the two foreign companies -- Chevron and Tullow -- operating in local fields are producing around 42 BCF of gas monthly, which is more than 50 percent of the country's total gas production.
The reserves of both of the gas fields operated by foreign companies are fast depleting, which is another threat to energy security, according to the experts.
If the government does not enhance gas exploration and finds an alternate option, the remaining gas reserves would be exhausted in nine to 10 years.
Currently, Bangladesh is consuming about 1 trillion cubic feet (TCF) of gas every year and the remaining reserve of 29 gas fields is only 9.76 TCF, shows data from Petrobangla.
In such a situation, the government is set to observe National Energy Security Day today with the theme "Energy savings: the oath of smart Bangladesh".
The government has been observing the day since 2010 to mark Bangabandhu Sheikh Mujibur Rahman's decision on August 9, 1975 to purchase five gas fields from a multinational oil drilling company, Shell Oil Company, by paying some 4.5 million pounds (about Tk 17-18 crore then).
Those five fields --- Bakhrabad, Titas, Rashidpur, Kailashtila and Habiganj -- account for 82 percent of the country's total gas reserves. The other 18 percent of gas reserves were discovered in the past 50 years.
"In the last 15 years, much more emphasis was laid on LNG imports, leaving aside the development of the local gas sector," said Maqbul-E-Elahi Chowdhury, a former member of Bangladesh Energy Regulatory Commission, at a webinar yesterday while presenting the keynote paper.
The current gas crisis is a result of the government's excessive interest in import-dependent fuel supply policy, he said at a webinar titled "Philosophy of Bangabandhu Sheikh Mujibur Rahman on Energy Security, Achievement and Implementation Status".
"We could not take proper initiative to explore the local onshore and offshore gas in our country. It was Bangabandhu's philosophy to develop the local gas sector," he said at the webinar organised by the Bangladesh Energy Society.
Among the 29 gas fields, 21 are operational and produce about 2,150 million cubic feet of gas a day (mmcfd). Since 2016, production has been declining. The highest production then was 2,666 mmcfd.
LNG import was initiated in late 2018.
Due to the pandemic and Ukraine war, the government needed to spend an additional $8 billion on imports, said Tawfiq-e-Elahi Chowdhury, the prime minister's energy advisor.
"The gas supply will increase in 2026 as we are working on increasing local production under a crash programme," said Md Khairuzzaman Majumder, senior secretary of the energy division, at a recent programme.
At the same time, the government has signed two contracts to import more LNG from Qatar and Oman.
With the lack of gas supply, the industries and power plants are facing acute crises to operate smoothly. Around 60 gas-fired power plants need around 2,174 million cubic feet of gas per day but have been getting only 1,100-1200 mmcfd, shows data from Petrobangla.
At least 20 gas-fired power plants were shut yesterday due to a gas crunch. Only three out of seven fertiliser factories are getting gas, shows data.
Chevron took huge initiatives to increase production of the Bibiyana gas field and kept the production stable from the onset, said M Tamim, dean of Buet's chemical and materials engineering faculty, in yesterday's webinar.
"But the local gas companies failed to raise the production, especially in the Titas gas field, even though its reserve is the same as Bibiyana," he added.
Bangladesh has a lot of hydrocarbon potential, said Badrul Imam, honorary professor at the University of Dhaka's geology department.
Even though the gas reserves are drying up, the country still has two-thirds of its areas unexplored.
"Besides, we don't know what is the situation of our offshore reservoirs."
The government should focus on rigorous gas exploration.
"If we don't explore the alternatives in time, national energy security will be under threat. LNG imports should not be the dominant source of gas supply; rather it should be a supplement to local gas," he added.