Inflation creating 'new poor' again
Finds PPRC-BIGD survey in May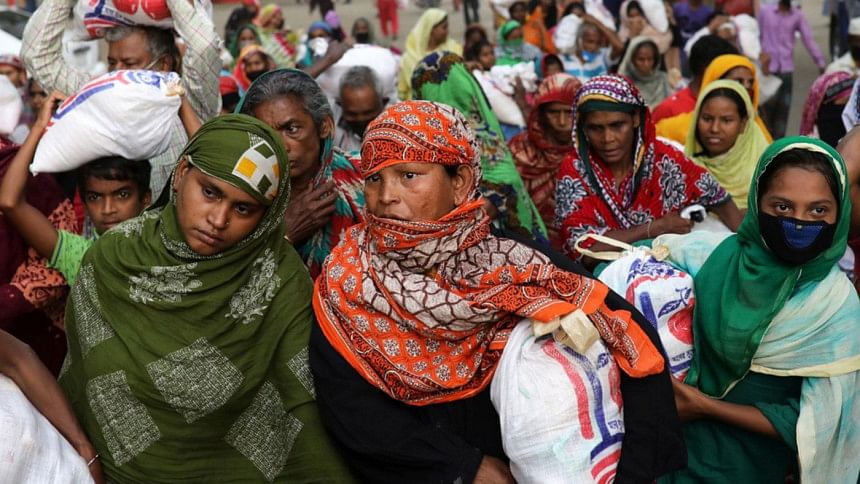 The number of 'new poor' in Bangladesh has not dropped off despite the economy reopening due to the runaway inflation between January and May, found a recent study.
At the end of May, the number of 'new poor' in the country stands at 30.9 million, which is 18.54 percent of the population, according to the report styled "Inflation, Coping and Recovery Challenges".
"It is a huge poverty burden," said Hossain Zillur Rahman, executive chairman of the Power and Participation Research Centre (PPRC), which jointly prepared the report with the Brac Institute of Governance and Development (BIGD).
Between May 12 and 23, 3,910 rural and urban slum households were surveyed, the fifth such survey since the onset of the pandemic.
The per capita daily income among the surveyed households was Tk 117 during the pre-pandemic period. It dropped to Tk 83 during the second shutdown in August last year.
Although the per capita income increased to Tk 105 in January this year, it came down to Tk 99 in May for the inflation.
The income of non-poor and vulnerable non-poor has fallen much sharply compared to their poorer counterparts and has recovered more slowly, particularly for the vulnerable non-poor, the survey found.
In April, inflation hit an 18-month high of 6.29 percent.
Due to the price hike, most of the surveyed households have drastically reduced or stopped consumption of major food items such as fish, meat, milk and fruit since February.
As of May, one in five urban slum households had to skip at least one meal in the last month due to lack of money.
The survey found that 38 percent of the households needed to borrow money but could not, mostly because of their inability to repay existing large debt burdens.
Since February, two-thirds of the households cut back on their non-food expenditure, including medical and children's education. Besides, they were buying less and lower quality goods to cope with the price hike.
Since February, 38 percent of the households were buying essentials from the Trading Corporation of Bangladesh's food trucks.
More than half of the households viewed the price hike as a governance issue and want the government to punish the syndicates and corrupt businesses.
There should be targeted scaling up of social protection programmes and governance reforms focused on market management to contain price rise, Rahman said.
The government's actions for the informal sector and the poor will be critical at this time, and this needs to protect both their consumption and production capabilities, said Imran Matin, executive director of BIGD.