Happy to win Magsaysay award, but it also increases our responsibilities: Korvi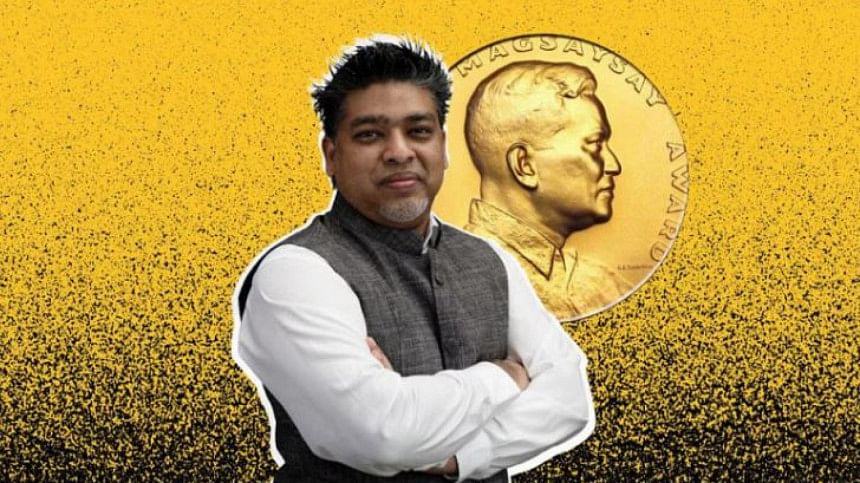 Korvi Rakshand, the founder of JAAGO foundation, was yesterday announced as one of the winners of the 2023 Ramon Magsaysay Award in the emergent leadership category.
Rakshand talked to The Daily Star over the phone after the announcement, and gave his reaction about the honour and spoke about JAAGO foundation in detail.
The Daily Star (DS): Today we came to know that you are one of the four winners of this year's Ramon Magsaysay Award, which is no small feat. We congratulate you. How are you feeling after hearing this news?
Korvi Rakshand (KR): Thanks. While I continued my work, I never gave thought to winning such a prestigious award. We kept on working. Ramon Magsaysay authority told us that they have been monitoring JAAGO foundation's and my work for almost five years. We were very surprised to know this. We had no clue. During this long period, they conducted research and collected information on us through various means.
Needless to say, winning this award brings us a lot of delight. In the past, people like Dalai Lama, Mother Teresa, and from our country, Fazle Hasan Abed sir, Prof Muhammad Yunus won it. As our name has now been included in that coveted list, our responsibilities have also increased. At the same time, winning such an award opens many new avenues. Previously we might have wanted to work inside the country. Now we may extend our successful model to other countries. In that case, it will be a source of pride for Bangladesh, too.
DS: JAAGO does voluntary work. However, many people don't have a clear idea about the foundation's work to be honest. Can you tell us a bit about your activities?
KR: JAAGO started its journey in 2007 with the voluntary work of teaching English to some underprivileged children. We had some spare time on our hands and, as students, wanted to help the children. This is how it started. It is always easier to help the children because elders wouldn't listen to us. Thus, we started our work with 17 children. Soon, the students started asking "When will we get promoted?", and we realised that in their imagination, we were running a school. Then we set up a school in Rayerbazar slum. After that, we thought we should start another school in Karail slum. After a few years, we realised that many entities are doing similar work in Dhaka—we should venture outside as well.
Eventually, when we went to other cities, we faced a major constraint. We found that no matter how noble our cause is, we could not replicate the positive outcome that we've received from the Dhaka children. The main reason was a dearth of competent teachers. It was then that we brought in the online school concept where teachers could teach students from Dhaka through videos. During the Covid pandemic, people saw that it was very much feasible. However, when we started it way back in 2011, people laughed us off!
Many young individuals contacted us asking to work as volunteers for these efforts. While working with them, I found out that even though I, as a person or JAAGO as a foundation, wanted to work with only children and their education, these young and enthusiastic individuals also wanted to work on youth development, women empowerment, and several other issues. A variety of ideas started pouring in. Then, we thought that we could not manage so many ideas and kickstarted a small platform named "Volunteer for Bangladesh".
The idea behind this platform was that it would bring active individuals together, who would act as a group and get things done. When we shared this on May 2, 2011, we saw that youths from Chattogram, Rajshahi, and Sylhet were saying, "Brother, we have nothing here. We want to work, too." From there till now, a total of 50,000 young individuals spanning all 64 districts are working on different objectives under the platform. A common question to us is, how are we managing these 50,000 people. Actually, we don't. Each district's youths conduct their own election to select the leadership. The winners decide which objective should be worked out in which district. This is how our journey is continuing for years.
DS: JAAGO foundation is no longer a volunteer organisation, right?
KR: Yes, you are right. We received an NGO license in 2020. Since then, we have been working with many international organisations too. Before that, all activities of the foundation revolved around the people of this country, their money and their dreams inside the country.
DS: So, after getting an NGO license, you are getting external aid?
KR: After getting the NGO license, large-scale donors like UNICEF, USAID, and SSPO are working with us. As we did not have this licence before, we could not work with such a big fund. Now we can do it.
Now we are educating 13,500 children in Bandarban with the help of UNICEF. We brought back students who dropped out of school during the Covid pandemic. Currently, we are running a training programme funded by USAID for 55,000 young individuals who either dropped out, couldn't finish their education or are currently jobless. Our objective is to teach them relevant skills that can help them get employed.
We are also working with female students. Our journey consists of 16 years, and thus, those who started from playgroup are now heading towards the universities. We noticed that the number of female students dropped significantly at the university level, due to lack of support. JAAGO Women Scholarship was initiated last year. Through this scheme, we helped some meritorious female students who got the opportunity to study in public universities but couldn't continue due to financial constraints. Last year we awarded the scholarship to 100 such women. This year, 160 women received it. Recipients will get the amount each year during their four-year graduation course. Every year, we would like to award this scholarship to a new batch of girls.
DS: Now people from various walks of life are getting the opportunity to admit their children into JAAGO Foundation's schools. However, initially, we would see that some young individuals were collecting money or selling things on the Dhaka roads wearing yellow T-shirts donning the JAAGO logo. It seemed that they belonged to the privileged part of society and were mostly English medium students.
KR: It's true. Initially, we started with our friends and family. I studied at Scholastica. My friends also came from there. The scene you described was part of the initiative we took to celebrate World Children's Day. What we did was, the children who used to beg or sell things on the road, we took them to the Wonderland park. On the other hand, we involved children who had more privileged backgrounds to sell things on the street. We did this in order to give them a feel of street-dwelling children's lives. It started from there. When we gave flowers to people, they gave us money and told us that we were doing a good job. However, we didn't have the intention to collect money like that. When we saw that people were giving us money, we started our second school. This is how the whole initiative acquired organic growth.
DS: Do the students who get involved with JAAGO Foundation get any benefit in going abroad for studies?
KR: Definitely. For the last five to seven years, universities in other countries have been considering co-curricular activities as a very important aspect. When they consider someone, they look at the result, and then they ask "what else did he/she do?". A common thought is, "If we award you a scholarship, what will you do when you go back to your country?" We have a relatively higher level of acceptance in four countries, as we do more work with them. The countries are the USA, UK, Canada, and Australia. Many of those, who want to go to these countries, come to us to do internships or volunteer work. In particular, many individuals are utilising the gap they get after finishing the SSC examination. Not only for scholarships or studying abroad, those who do the internship during their school life also get a feel of the real world which helps them in deciding careers and relevant fields of study.
As a last word, I would like to say that though it was initially established as a channel for volunteer work, the JAAGO Foundation has now institutionalised itself as an NGO. In Dhaka, our head office is at Banani. We have offices in 14 other locations outside Dhaka. About 600 employees are working for our NGO. We will continue to work for the underprivileged in order to spread the light of education among all and encourage the youth to bring in social transformation. Not only within Bangladesh, we will extend our efforts in the international arena, too.