G7 'global shield': Bangladesh among first to receive climate funding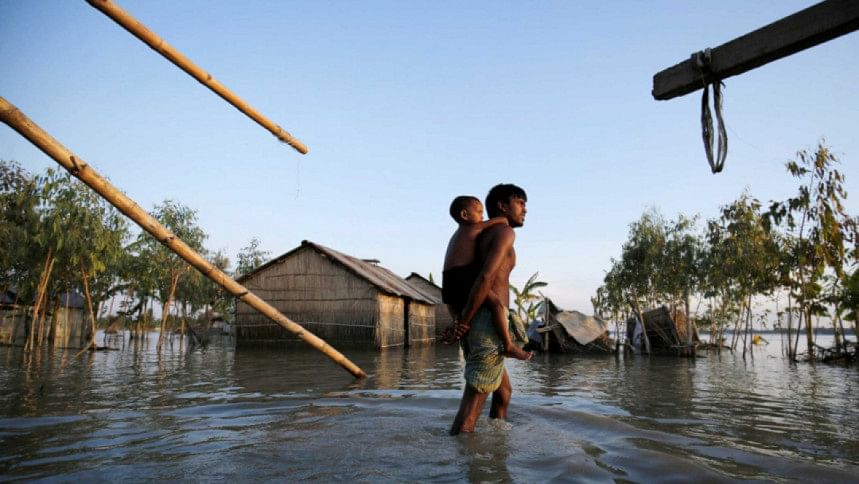 Bangladesh, Pakistan, and Ghana will be among the first recipients of funding from a G7 initiative to help countries affected by climate change, according to a programme announced Monday at the COP27 summit in Egypt.
The "Global Shield" initiative, coordinated by G7 president Germany, aims to provide rapid access to insurance and disaster relief funding for climate-vulnerable countries following floods and droughts.
It is being developed in collaboration with the "V20" group of 58 climate-vulnerable economies, reports Reuters.
The first recipients of Global Shield packages – called "Pathfinder Countries", include Bangladesh, Costa Rica, Fiji, Ghana, Pakistan, the Philippines and Senegal, read a statement issued by Germany.
Backed by 170 million euros in funding from Germany and 40 million euros from other donors, including Denmark and Ireland, those packages would be developed in the coming months, Germany said.
Some countries and campaigners were cautious, however, concerned it risked damaging efforts to secure a substantive deal on financial help for so-called "loss and damage" - the UN jargon for irreparable damage wrought by global warming.
German development minister Svenja Schulze said the Global Shield aimed to complement, not replace, progress on loss and damage.
"It is not a kind of tactic to avoid formal negotiation on loss and damage funding arrangements here," Schulze said. "Global Shield isn't the one and only solution for loss and damage. Certainly not. We need a broad range of solutions."
Some research suggests that by 2030, vulnerable countries could face $580 billion per year in climate-linked "loss and damages".
Saleemul Huq, an adviser to the Climate Vulnerable Forum, said the fund is a type of loss and damage fund that uses insurance plus other measures, and Bangladesh is one of the countries included in the scheme.
"However, it is not a substitute for agreeing to the Finance Facility for Loss and Damage in COP27," he said.
Germany has already announced their contribution at COP27. Chancellor Olaf Scholz yesterday announced Germany's contribution of 170 million euros to the shield.
World Bank estimates that by 2040, over 130 million people could be pushed into extreme poverty by climate change.
The membership of the V20 group, the beneficiaries of this initiative, stands at 58 economies representing some 1.5 billion people including Afghanistan, Bangladesh, Barbados, Benin, Bhutan, Burkina Faso, Cambodia, Chad, Colombia, Comoros, Costa Rica, Côte d'Ivoire, Democratic Republic of the Congo, Dominican Republic, Eswatini, Ethiopia, Fiji, The Gambia, Ghana, Grenada, Guatemala, Guinea, Guyana, Haiti, Honduras, Kenya, Kiribati, Kyrgyzstan, Lebanon, Liberia, Madagascar, Malawi, Maldives, Marshall Islands, Mongolia, Morocco, Nepal, Nicaragua, Niger, Palau, Palestine Territories, Papua New Guinea, Philippines, Rwanda, Saint Lucia, Samoa, Senegal, South Sudan, Sri Lanka, Sudan, Tanzania, Timor-Leste, Tunisia, Tuvalu, Uganda, Vanuatu, Vietnam and Yemen.