Fuel prices cut by Tk 5 per litre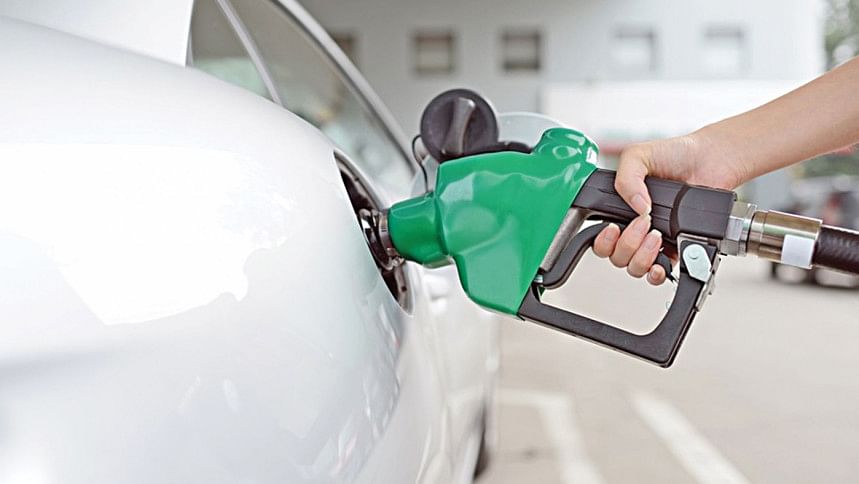 The government yesterday trimmed fuel prices by Tk 5 per litre in line with the 11.25 percentage point slash in the import duty of diesel by the National Board of Revenue.
From today, the retail price of diesel and kerosene would be Tk 109, petrol Tk 125 and octane Tk 130.
The price adjustment of 3.7 to 4.39 percent comes 23 days after the government went for a record fuel price hike of 42.5 to 42.7 percent.
Adjustment of such a small margin drew criticism from ordinary people.
This will not affect the prices of any of the products that were raised in line with the record hike earlier this month, said Shamsul Alam, vice-president of the Consumers' Association of Bangladesh.
For instance, bus fare was increased 22 percent on long routes and 16.3 percent for city routes. Launch fare was hiked 30 percent.
"With the decision, the government has created the ground for illicit profit-taking by businesses."
He went on to call the price adjustment decision "illegal".
"All the decisions related to petroleum products are supposed to be set by the Bangladesh Energy Regulatory Commission and not by the ministry itself. With this decision, they are trying to justify their earlier decision," Alam added.
Meanwhile, Nasrul Hamid, the state minister for power, energy and mineral resources, said the Bangladesh Petroleum Corporation will continue to count losses despite the generous duty cut.
"We didn't ever think the price of diesel will take this trend," he told reporters at the secretariat earlier in the day.
On August 26, the price of diesel in the international market was $147.62 per barrel, said the energy ministry in a press release yesterday.
After the duty cut, the import cost of diesel comes to Tk 128.61 per litre.
Since BPC is selling at Tk 109, it is racking up losses of Tk 19.61 a litre, it added.
If the price decreases in the international market, the local price will be adjusted again, Hamid told The Daily Star last evening.
Earlier in the day, after a meeting with petrol pump owners, BPC Chairman ABM Azad said that it may take two to three days to know the impact on the price structure due to the reduction in import duty on fuel.
"Diesel still costs $132 per barrel in the international market. As a result, BPC is losing Tk 9.5 to Tk 10 per litre."