Foreign secy meets Myanmar, Chinese reps to start Rohingya repatriation before monsoon
Diplomatic source tells The Daily Star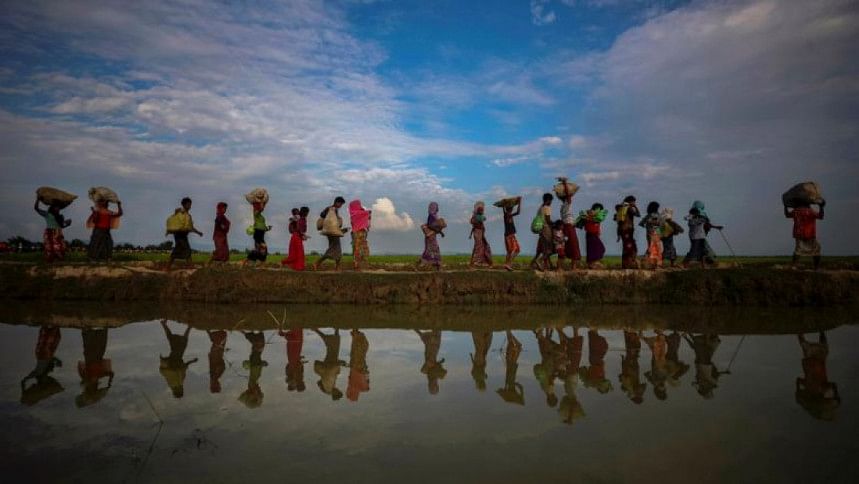 With an aim to start Rohingya repatriation before the monsoon, Foreign Secretary Masud Bin Momen held a tripartite meeting in Kunming with representatives from China and Myanmar yesterday.
A diplomatic source told this to The Daily Star, but declined elaboration.
Masud Bin Momen flew to Kunming of China on Monday. This trip was not publicised, and Foreign Minister AK Abdul Momen also did not respond when he was asked about the secretary's China visit after an event at the Foreign Service Academy.
The source said there was a plan to repatriate some 1,000 Rohingyas before monsoon. After observing their situation back in Rakhine State, the next course of action could be taken.
Amid mounting global pressure, a 17-member Myanmar delegation in March this year conducted a five-day campaign in Teknaf to verify the identities of Rohingya refugees for repatriation of the first batch of Rohingyas before monsoon.
According to Bangladesh officials, there were some issues regarding the earlier verification process, and virtual meetings held in this regard were not enough to settle those.
"Therefore, the delegation met the Rohingyas in person and verified their names, villages, towns … " a foreign ministry official had told The Daily Star in March.
Since 2017, when around 750,000 Rohingyas fled a military crackdown in Myanmar's Rakhine State, there were at least two attempts of repatriation and Chinese officials were also involved in the process as China began mediating under a tripartite arrangement involving China, Bangladesh and Myanmar.
However, not a single refugee of the over one million sheltered in Cox's Bazar's Teknaf and Ukhiya upazilas was repatriated, as the Rohingyas said the conditions in Rakhine were not safe and there was no guarantee of citizenship after returning.
Talks between Myanmar and Bangladesh had slowed since the start of the Covid-19 pandemic in early 2020, and military takeover of Myanmar in 2021.
Meanwhile, the global pressure piled on the Myanmar junta that is accused of killing thousands of civilians fighting for the return of democracy.
On the other hand, a genocide case is ongoing with the International Court of Justice, while the US has also termed the atrocities against the Rohingyas a genocide.
In December 2021, the US Senate passed the BURMA Act to bolster support for the Myanmar democratic forces.
Foreign ministry officials said Myanmar has shown growing interest for the Rohingya repatriation in recent times and has also arranged a trip for ambassadors of ASEAN countries and of Bangladesh, India and China to Rakhine early March to show the conditions.