Fair share? Teesta to get even drier in Bangladesh
West Bengal moves to divert more water from the river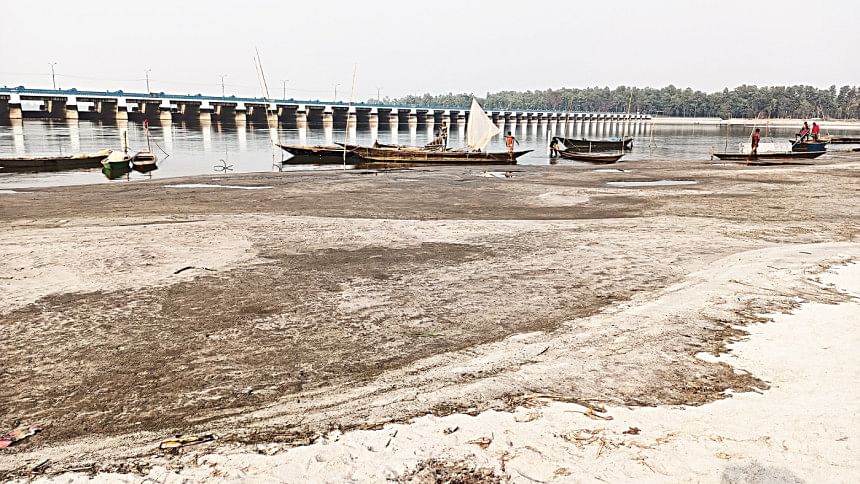 While Bangladesh has been waiting 12 years to sign the Teesta water-sharing treaty with India, West Bengal made a unilateral move to divert more water from the river for hydropower plants and new irrigation projects.
Experts fear that the projects will cause even more suffering to Bangladeshi people who have been waiting years to get their fair share of the water.
Joint Rivers Commission (JRC), Bangladesh, has moved to lodge a protest with India.
"India did not inform us about their move. We are going to send a protest letter to India expressing our concerns and mentioning how the move will affect the ecosystem of the Teesta downstream," said Mohammad Abul Hossen, a member of the JRC, Bangladesh.
Indian newspaper The Telegraph on Monday reported that the West Bengal government decided to set up three hydropower plants in Darjeeling and two of them are likely to reduce the volume of water in the Teesta.
Last week, the newspaper also reported that the West Bengal government acquired 1,000 acres of land to dig two canals and divert more water from the Teesta to irrigate farms in Jalpaiguri and Cooch Behar districts.
Teesta water is crucial for irrigation in the northern part of Bangladesh, especially during the lean period between December and April.
In 2011, Bangladesh and India finalised the Teesta water-sharing agreement but it was not signed as West Bengal Chief Minister Mamata Banerjee opposed it.
Since then, India has been assuring Bangladesh of signing the deal and Bangladesh has been patiently waiting. No progress has been made over the last 12 years.
During the Indian PM's Dhaka visit from March 26-27 in 2021, Prime Minister Sheikh Hasina and her Indian counterpart Narendra Modi directed their respective water resources ministries to work towards an early conclusion of the Framework of Interim Agreement on sharing waters of six common rivers.
Two years have gone by but the framework has not seen the light of day.
"Farmers need to pay Tk 2,500 to Tk 3,000 to irrigate one bigha of land using pumps. They would have required only Tk 250 to Tk 300 if the river had water."
Bangladesh is currently waiting for a date to be fixed for a JRC meeting on the framework in Dhaka.
Professor Ainun Nishat, a former member of the JRC said India should officially inform Bangladesh about their projects.
If the newspaper reports are true, then irrigation for Aman even in September and October will be affected.
Engineer M Inamul Haq said India has built many hydropower projects on the Teesta in Sikkim state and has claimed that those do not take away river water.
If this is true then the water of the Teesta should not have reduced and the West Bengal government should not have said that there is no water to share with Bangladesh, he said.
The Bangladesh government should take an initiative and arrange a joint visit to the project areas to see what they are actually doing, he said.
During a spot visit, farmer Alal Uddin, 70, of Gaddimari village, just 5km downstream of Teesta barrage in Hatibandha of Lalmonirhat, told our correspondent S Dilip Roy, "The Teesta has become like a small canal in our char [shoal]. There were about 2-3 feet of water until Monday afternoon. The water dropped further around Tuesday noon. We are crossing the river on foot."
Mohammad Shah Alam, additional director of the Department of Agricultural Extension in Rangpur region, told The Daily Star that farming has been badly affected. Most of the shoals and floodplains remain barren as water is scarce.
"Farmers need to pay Tk 2,500 to Tk 3,000 to irrigate one bigha of land using pumps. They would have required only Tk 250 to Tk 300 if the river had water," he said.
It is even worse for the fishermen.
"We have been unemployed for the last two months as the river has completely dried up," Fisherman Subal Chandra Das, 55, of Sarpukur Daspara village in Lalmonirhat said yesterday afternoon.
Asfa Uddaula, executive engineer of the Water Development Board (WDB) in Dalia, told The Daily Star on Tuesday afternoon that 1,450 cusecs (cubic feet per second) of water was received at the Teesta barrage from upstream that day.
He said after using water for irrigation, only 100 cusecs could be released downstream of the barrage.
WDB officials told The Daily Star that out of the 115km course of the Teesta inside Bangladesh, at least 102km of it almost dries up during the dry season.
The Teesta gets more or less enough water only between July and October.
India in 1983 built the Gajoldoba barrage on the Teesta 70km upstream of Bangladesh's Doani area in Lalmonirhat.