Ensure none can use religion to mislead people
PM tells Alem and Olama; inaugurates model mosques, Islamic cultural centres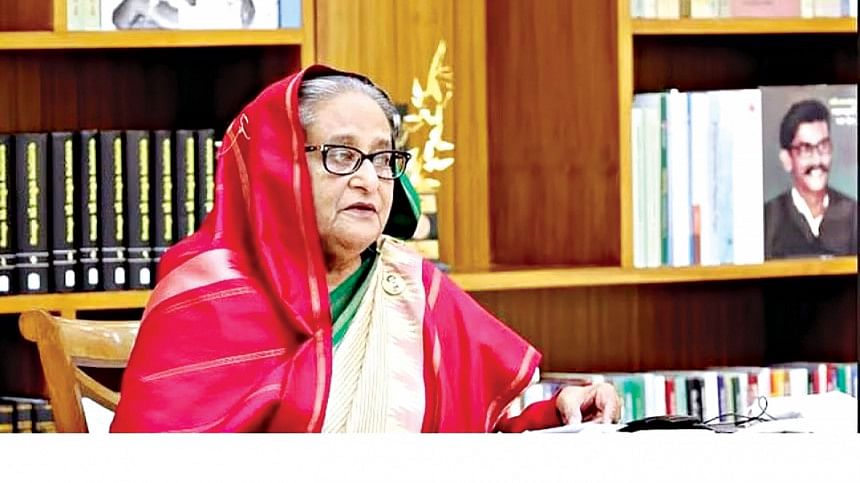 Prime Minister Sheikh Hasina yesterday called upon Alem and Olama (Islamic scholars) to instil humanitarian values among people and guide them against terrorism, militancy and drug abuse.
"These are destroying families and the society as well," she said while virtually inaugurating 50 more model mosques across the country from her official residence Gono Bhaban.
She also requested all, particularly the children, not to get involved in militancy, saying, "Militancy is dishonouring Islam instead of dignifying it."
Hasina urged the guardians and teachers of educational institutions to be cautious as children and youths are being targeted by militants.
The prime minister said through the model mosques and Islamic cultural centres, people would get the true knowledge on Islamic values and culture.
This will help them not to be misled in the name of religion, alongside contributing immensely to stop terrorism, militancy and repression on women, she added.
"Make sure that none can mislead people using our religion. You can educate people to refrain from getting involved in social ills that include drug addiction, child marriage, repression of women, food adulteration and corruption through your daily sermons and khutba during Jumma prayers," she said.
She said religion cannot be used as a political weapon. "Our target is to put an end to torture and repression, using religion," she said.
"Irrespective of political identity and opinion, we can build a developed, prosperous and 'Smart Bangladesh' -- with equal respect towards every religion and with the non-communal spirit," she said.
Following the ideals of the Father of the Nation, she said they have taken various programmes to dignify Islam that includes constructing 564 model mosques at each of the upazilas and districts.
The prime minister said that she has so far opened 100 model mosques across the country while the rest will be opened in phases.