DU centenary celebrations start today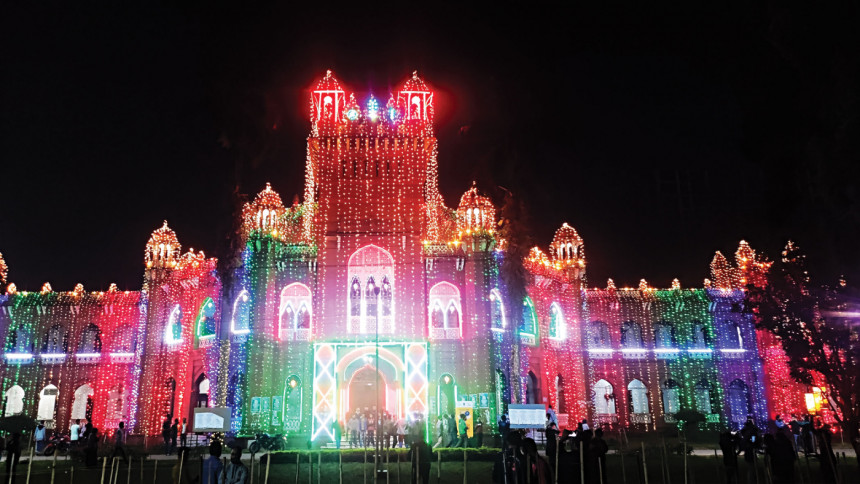 The opening ceremony of the celebrations for Dhaka University's (DU) centenary and the golden jubilee of the independence of the country will be held today at the central playground of the university.
President Md Abdul Hamid, also chancellor of the university, will inaugurate the festival as chief guest.
Prime Minister of Bhutan Lottay Tshering, also a DU alumnus, will deliver a virtual greeting speech at the opening ceremony.
Speaker Dr Shirin Sharmin Chaudhury will address the opening ceremony as guest of honour and vice-chancellor Prof Md Akhtaruzzaman will preside over the opening ceremony.
Although the university's golden jubilee was on July 1, 2021, the celebrations were postponed as a safety measure against coronavirus.
Education Minister Dr Dipu Moni will speak as special guest at the ceremony while Foreign Minister AK Abdul Momen, UGC chairman Prof Kazi Shahidullah, president of DU Alumni Association AK Azad, pro-VC (administration) Prof Muhammad Samad will be present.
Renowned artists and cultural figures, as well artists and alumni from the university's music, theatre and dance departments will perform in the two-week-long celebration.
On the occasion of the university's centenary, Prime Minister Sheikh Hasina congratulated all the students, teachers and staffers of DU in a message issued last night.