Dhaka, Paris strike deal on defence cooperation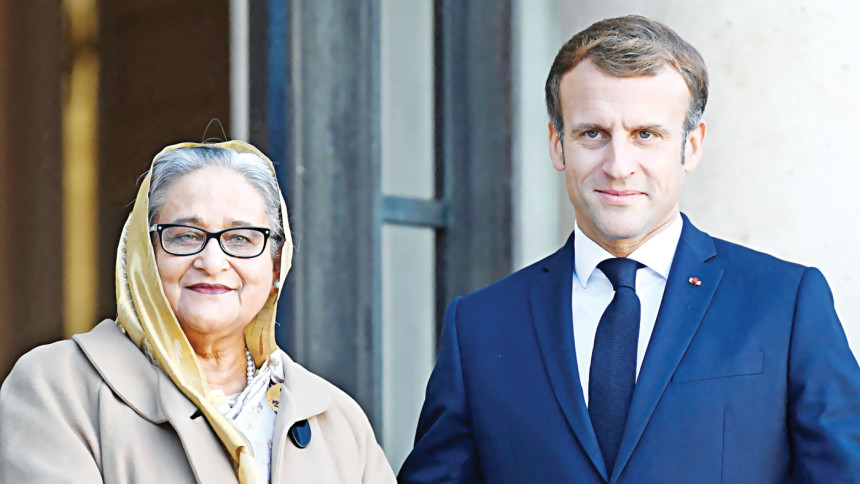 Bangladesh and France have signed a letter of intent on defence cooperation, while also sharing the common vision for a free, open, peaceful, secure and inclusive Indo-Pacific region.
At a meeting on Tuesday, the two countries agreed to further develop the defence and security component of their partnership based on the needs expressed and each party's ability to respond to them using different methods, including through capacity building and potential technology transfer.
A statement issued by the office of French President Emmanuel Macron early yesterday said, "To that end, both countries agreed to strengthen dialogue and continue their cooperation, particularly in the area of training, which was launched during this visit."
Foreign Minster AK Abdul Momen yesterday said, "Yes, we signed it [letter of intent]. It relates to training and technology transfer."
Prime Minister Sheikh Hasina arrived in Paris on Tuesday after joining the COP26 in Glasgow. She was accorded a warm reception at Elysee Palace on the first day of her five-day visit.
The Presidential Guard gave the prime minister a salute on her arrival at the Presidential Palace. Hasina and Macron had a luncheon meeting, followed by a tête-à-tête.
Later, Hasina had a bilateral meeting with French Prime Minister Jean Castex at his official residence the Matignon.
In March last year, Florence Parly, the French armed force minister, during a meeting with PM Hasina in Dhaka had proposed to sell Rafales manufactured by Dassault Aviation.
Asked about the letter of intent (LoI) on defence cooperation, former election commissioner and security analyst Brig Gen (Retd) Dr M Shakhawat Hussain said signing the LoI does not mean that Bangladesh will buy the defence equipment.
French defence equipment, especially the Rafale, is very expensive, but Bangladesh can surely buy it if it has the capability and the need for it, he said.
"India is buying Rafale, but Bangladesh does not have open frontiers like that of India."
The LoI with France was signed less than a week after Bangladesh agreed in principle to buy five naval ships from the UK.
"Taking note of the French and European strategies concerning the Indo-Pacific, both parties agreed to work towards promoting regional peace and stability and to explore further opportunities for cooperation in maritime security and blue economy," the LoI said.
Highlighting their commitment to fully observing the 1982 UN Convention on the Law of the Sea as well as the peaceful settlement of disputes, refraining from any threat or use of force, the two countries stated the importance of maintaining security and freedom of navigation and overflight in all seas and oceans.
The development came at a time when the Indo-Pacific region is drawing more global attention.
The US has formulated an "Indo-Pacific Strategy" for an open and rules-based region. On September 15, Australia, the United Kingdom and the United States announced a security pact called AUKUS for the region that experts say is aimed at countering China.
Bangladesh, however, maintains that it is with any initiative for socio-economic development in the region, but not for defence.
France and Bangladesh also underscored the need to ensure funding for the UN's Joint Response Plan for the Rohingya refugees and enable their voluntary, safe, dignified and sustainable return to Myanmar as soon as possible.
Dhaka and Paris also signed Credit Facility Agreements on strengthening healthcare systems and on a water treatment plant.
Both the countries committed to strengthen connectivity in South Asia in order to facilitate exchanges between Europe and Asia.
They reaffirmed that terrorism, in all its forms and manifestations, is one of the most serious threats to global peace and security and that all terrorist acts are criminal and unjustifiable.
"Both countries, therefore, jointly expressed their support for counter-terrorism efforts and agreed to enhance their cooperation, including under the aegis of the United Nations."
France complimented Bangladesh on being recommended by the UN to graduate from the LDC in 2026.
Acknowledging Bangladesh's submission of the National Plan of Action on the Labour Sector to the European Union, France stressed the need for its comprehensive implementation and encouraged Bangladesh to pursue its export led growth and economic diversification.
The high-level discussions also covered upgrading of bilateral relations, the 50th anniversary of the establishment of diplomatic relations, which both countries will celebrate next year and major international and regional issues.
Both sides recalled the historic leadership of Bangabandhu Sheikh Mujibur Rahman, and Bangladesh acknowledged the valuable support of the government and people of the Republic of France during the 1971 Liberation War.
They expressed their wish to strengthen cooperation in order to improve the global governance mechanism and stimulate sustainable economic recovery and growth from the Covid-19 pandemic.
Foreign Minister AK Abdul Momen, Education Minister Dipu Moni, PM's Principal Secretary Ahmad Kaikau, Foreign Secretary Masud Bin Momen and Bangladesh Ambassador Khandaker Mohammad Talha accompanied the prime minister.