Development possible for peaceful environment
Says Hasina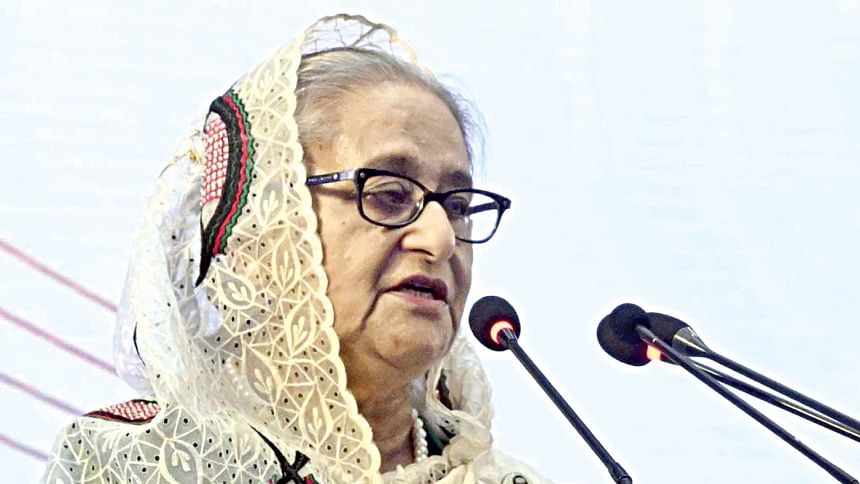 Prime Minister Sheikh Hasina yesterday said Bangladesh has been able to achieve remarkable socioeconomic development over the last 14 years due to a peaceful democratic environment in the country.
She gave the credit for the success to her party, the Awami League, which formed the government in 2009 after winning the 2008 election.
The prime minister was speaking at a programme celebrating the golden jubilee of the conferment of the Joliot-Curie Peace Medal to Father of the Nation Bangabandhu Sheikh Mujibur Rahman.
The Cabinet Division organised the programme at Bangabandhu International Conference Center (BICC) with the PM in the chair.
Hasina said that after getting the people's mandate in 2008 her government has been working for the development of the country in a planned way.
"As a result, we have been able to reduce the poverty rate and maternal mortality, increase literacy and life expectancy," she said.
"So, a peaceful sustainable environment is needed for the people to attain economic emancipation, and all have to remember that," she said.
Denouncing the global arms race, she put emphasis on settling all disputes through dialogue as Bangladesh did with India and Myanmar.
"Why this arms race now, why will the money that is being used for arms race not be used for hungry children and humans? For this arms race, thousands of children and women are leading inhuman lives around the globe," she said.
In this connection, she mentioned that Bangladesh has given shelter to more than one million forcibly displaced Myanmar nationals, Rohingyas, who faced oppression. In this regard, she recalled the genocide Bangalees suffered in 1971.
"We want that peace returned to the world. There shall be no types of unrest (in the world)," she said.
The prime minister firmly said Bangladesh does not want any unrest and confrontation in the world.
"We want development in people's lives, and we always want that for everyone," she said.
She also announced the introduction of "Bangabandhu Sheikh Mujib Peace Prize" to recognise those who are working for establishing peace at home and abroad.
"Because we want peace we will surely advance towards the path of peace," she said.