Cracks appear in port city's first flyover
Repair pending for quite some time; locals panicked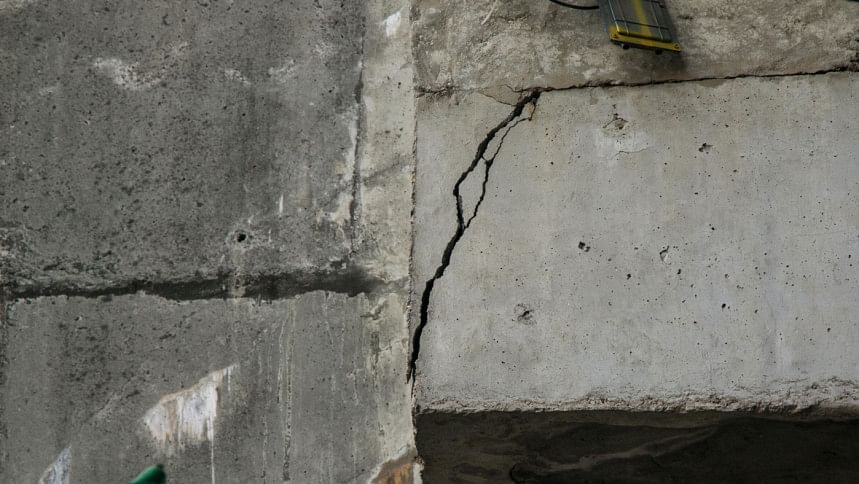 Cracks have appeared in two pillars of the flyover that connects Chattogram Container Terminal (CCT) of Chattogram port with the Toll Access Road.
This has created panic among commuters who use the road. Solaiman Sheikh, a local trader of the Saltgola Crossing area, said, "We first saw the cracks a few days ago, which is gradually worsening."
"Its really tough to drive on this flyover, as most of its adjoining parts are severely damaged. We've been calling repairs for some time, but no one pays heed to our cries," said lorry driver Nur Hossain.
Visiting the area yesterday morning, this correspondent found movement of goods-laden heavy vehicles, including truck and covered vans, causing noticeable jolts to the flyover's structure.
He also found heavy, loaded vehicles parked on top of the flyover that stretches from the Port Access Road to the connecting point of its two container terminals.
Seeking anonymity, an RHD engineer said, "Lack of maintenance has left iron plates and rubber-coatings at different points of the flyover severely damaged."
Contacted, Md Omar Faruk, general secretary of Chattogram Port Authority (CPA), said "We have sent a letter to RHD to maintain the flyover, but they said they couldn't do it, citing lack of funding."
However, Md Abdus Sabur, chief engineer of Roads and Highways Department (RHD), said, "The cracks in the flyover area are repairable. We will get to the repair works as soon as possible."
Md Abdul Wahid, additional chief engineer of RHD Chattogram, said, "They're not structural damages. They appeared on the horizontal part of the flyover. Officials from RHD  have already visited the spot yesterday. We didn't restrict vehicle movement on top of or under the flyover since the cracks are not severe."
The 1.42-kilometre long and 10.6-metre wide flyover was constructed at a cost of  around Tk 82 crore.