"Compared to food crisis in US, UK, we're still in decent state"
Says PM Sheikh Hasina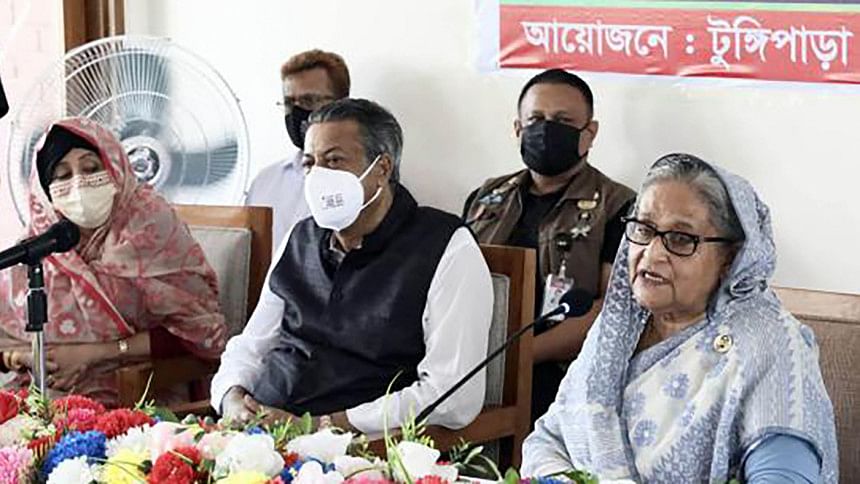 Prime Minister Sheikh today (July 4, 2022) said Bangladesh is in a good state compared to food crisis in the United States and United Kingdom.
"Big countries such as America and England are now suffering from food crisis. We're still in a good position and trying to be well. It requires help from all," she said while exchanging views with leaders and activists of Tungipara and Kotalipra upazila Awami League.
The prime minister asked all to bring every inch of land across the country under cultivation to grow more food.
The premier asked her party leaders and activists to make sure that none including her party men would suffer against the backdrop of the Covid-19 outbreak and the Russia-Ukraine war.
"Make sure that not a single activist of mine and the countrymen would suffer," she told
The prime minister said her government has been working tirelessly to transform Bangladesh into a developed and prosperous nation free from poverty and hunger as envisioned by Father of the Nation Bangabandhu Sheikh Mujibur Rahman.
She asked the Awami League leaders and activists to stand beside the people to pursue the government move that none will remain poor, homeless and hunger anymore.
"Each of the Awami League leaders and workers has to work for changing the mindset of doing only for oneself," she said.
The premier reminded her party activists as well as the countrymen that the world is now going through a critical juncture due to the double blow of the ongoing coronavirus and the Russia-Ukraine war and reiterated her call to all to show austerity in every sector particularly in using energy like electricity.
Earlier in the morning, the prime minister reached her ancestral home in Gopalganj's Tungipara for the first time crossing the Padma Bridge since its inauguration to traffic on June 25.
The premier was accompanied by her son Sajeeb Wazed Joy and daughter Saima Wazed Putul.