Closed state-owned jute mills: Laid-off workers still not paid arrears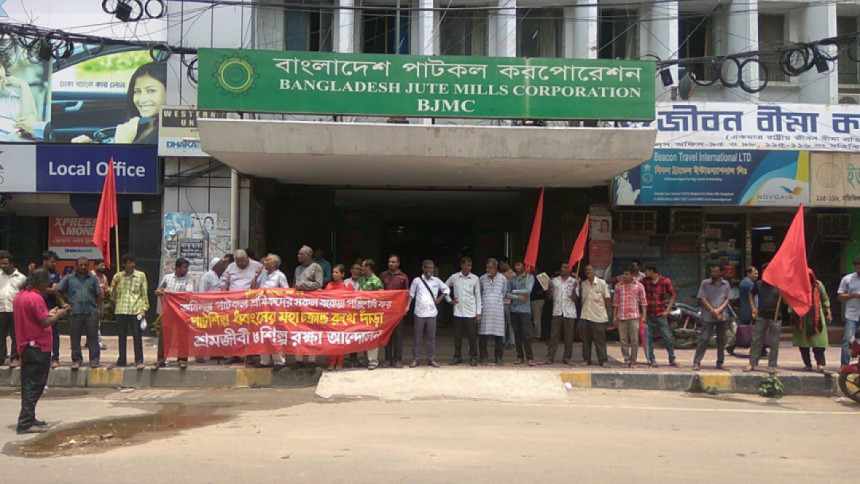 Bangladesh Jute Mills Corporation (BJMC) could not pay arrears and benefits to all the laid-off government jute mill workers even after about two years.
The state-run organisation put the payments off mainly due to bureaucratic tangles. This has left thousands of workers and their families living in extreme hardship, said aggrieved workers.
The government on July 2, 2020 shut down 25 jute mills and laid off over 57,000 permanent and temporary workers citing heavy loss and high maintenance costs as reasons.
On Thursday, the Finance Division of the finance ministry has released Tk 92.37 crore to pay the arrears and benefits to the workers.
It came as a relief, but not for all as more than 13,000 workers will not be eligible to get their arrears from this fund.
Besides, as the fund was released on the day before the start of the weekend and the Eid holiday, the eligible workers will have to wait for several weeks to get hold of their hard-earned money.
The notice stated that this Tk 92.37 crore can be spent only for paying the due wages of 5,625 temporary workers, wages and benefits of 142 permanent workers against whom the mill authorities filed cases "by mistake" for staging protests, due wages of six weeks when the mills were closed due to workers' protests and due wages of 64 weeks for the workers of Aleem Jute Mills Limited.
That means around 8,500 jute mill workers who used to work on no-work-no-pay basis are yet to receive five years' arrears as recommended by the wage board in 2015.
Besides, workers who are fighting cases filed by BJMC against them for staging protests also have been excluded from the list of recipients. Their number could not be confirmed by BJMC officials. However, according to worker leaders, the number is no less than 50.
The workers are also worried about facing bureaucratic tangles and harassment as the notice stated that they must have to produce a national ID card, ID card issued by the mill authority and bank details to get the due wages and benefits.
Workers' leader Md Imran, also a laid off worker of the Crescent Jute Mills, said, "Many workers already could not receive their due wages and benefits as there is slight difference in their names in the national ID card and the factory ID card. The mill authority asked them to get their names corrected in the national ID card which is a very long and complicated process."
According to workers' leaders, around 5,000 workers have so far been denied due wages and benefits due to spelling mistakes in the national ID card.
Due wages and benefits of each jute mill worker ranges from 600,000 to 5,000,000 depending on their employment status and service duration.
Humayun Kabir, a temporary worker of Platinum Jubilee Jute Mills Limited, said they have not celebrated Eid since 2020.
"The BJMC has taken away all our hopes and joy. We have lost our jobs, we have been evicted from our home (BJMC's labour quarters in Khalishpur, Khulna) where we lived for at least two generations. We have now become homeless, unemployed and destitute.
"If I could get the arrears of around Tk 600,000-700,000 at least before Eid, I could have at least given some good food and clothing to my family members. For two years, I cannot not buy meat and fish for my family members as I earn only about Tk 2,500 a month by carrying luggage at the railway station," lamented Humayun.
Ruhul Amin, another worker leader, demanded smooth and speedy disbursement of the arrears and benefits and reopening of the jute mills under state ownership.
Contacted, Md Sajjad Hossain, coordinator of BJMC's Khulna region, said they would need at least five working days to get the funds through Bangladesh Bank. "Then we shall start disbursing the funds to the workers."
Asked when the remaining workers will get their due wages, jute and textiles ministry spokesperson Saikat Chandra Halder said in a written statement, "All the permanent workers have already received their outstanding wages and Tk 3,563 crore has been disbursed in the process. Once the identities of the temporary workers and those who worked on no-work-no-pay basis are verified, their due wages will also be cleared."
BJMC Chairman Md Salehuddin, currently in Saudi Arabia for performing Umrah, told this correspondent on April 13, "We cannot confirm when we shall be able to pay all of them their due wages as we have to rely on the funds released by the finance ministry."