BAU students 'assault' scientist on campus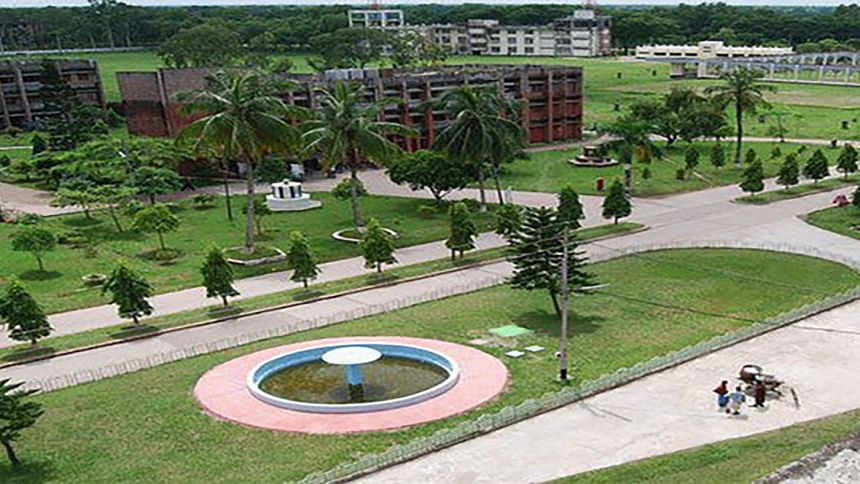 A group of Bangladesh Agricultural University (BAU) students have allegedly assaulted a scientist of Bangladesh Institute of Nuclear Agriculture (BINA) on campus.
Shams Al Mahmud, a scientific officer of BINA, along with his wife, a master's student at the BAU, and his brother-in-law, went to Jobbarer Mor on campus to have dinner around 10:00pm on Wednesday.
While they were on their way to a restaurant, BAU Proctor Prof Azharul Islam stopped them and asked for their identities, reports our local correspondent quoting the Shams.
"When the proctor approached us, he inquired about the woman accompanying me. I informed him that she is my wife and also a student at this university. The proctor asked if we knew him. When we replied in the negative, he became agitated and began to behave rudely," Shams claimed.
Later, a group of BAU students appeared at the scene and demanded that Shams and his family apologise to the proctor, Shams also said.
"As we refused, they assaulted us. We had to leave," Shams said, adding that he later informed BINA Director General Mofazzol Islam about the incident. He also demanded a proper investigation into the matter, Shams said.
When contacted, BAU Proctor Prof Azharul Islam stated, "I just questioned Shams to know about him and the woman with him as there is restriction on the movement of females on campus at night."
He claimed that they refused to provide their identity. He also mentioned that later, some students who were nearby at the time of the incident, appeared at the scene.
"I did not know what happened next as I left the scene in my car," the proctor said.
He added that he could not identify if the alleged students were members of Bangladesh Chhatra League.