Anti-discrimination bill 2022: Law targeting inequality placed in House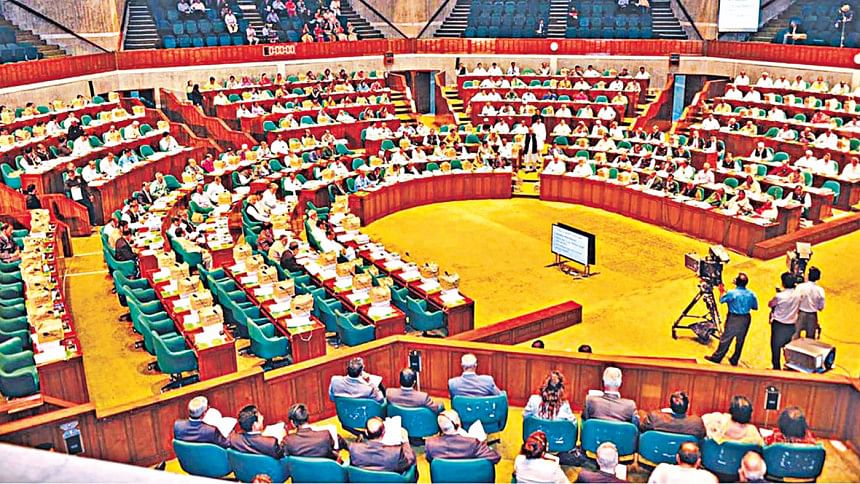 Law Minister Anisul Huq yesterday placed the Anti-Discrimination Bill 2022 in the parliament as the government looks to protect, uphold and ensure equal rights and dignity of all human beings.
The bill, which targets inequality, was sent to the parliamentary standing committee on the respective ministry for vetting. The parliamentary watchdog was asked to submit its report within 30 days.
The bill is aimed at preventing all forms of discrimination in the light of the constitution, Huq said while placing the proposed law.
It will be considered discriminatory if a person prevents, controls or restricts the entry or presence of any person or group in public places or deprives access to government, semi-government, autonomous or private office services, according to the draft law.
Refusal or obstruction to enrol a child in an educational institution due to the inability of parents to provide identification without proper reason or expulsion from educational institutions would be considered discriminatory.
It will no longer be possible to deny rent to a house or place of residence to an individual or group or impose strict conditions without facing repercussions.
Discriminatory treatment due to divorce, widow or divorce or marital relationship would become unlawful.
As per the law, a monitoring committee would be established. The law minister shall be the chairman of the central committee and a joint secretary hailing from the legislative wing will be the member secretary.
The president of the Bangladesh Employers Federation, three representatives of human rights and social service organisations, two workers' representatives -- one of whom will be a tea worker -- four representatives of different religious organisations, one representative of a minority ethnic group, one representative of Dalit community will be its members.
The committee will monitor if any violation of human rights is occurring or not across the country. A president will head the committee, which will hold at least one meeting in three months.
An anti-discrimination cell will be formed. The cell will then form anti-discrimination national, divisional, district and other committees to prevent discriminatory activities if any.
The government, as per the bill, will create awareness among the people so that no discrimination takes place across society.
If anyone lodges a complaint, the district committee will investigate the matter within 30 days.
If the district committee fails to provide a proper remedy, the complainant could urge the divisional committee for an enquiry within 30 days of filing the complaint.
In case the divisional committee fails, the national committee will investigate and take action after 45 days.
If the aggrieved person files a case in the appropriate court, the case has to be disposed of within 90 days.
If he fails to do so within 90 days, the case will have to be extended by a maximum of another 15 days.