Another haor inundated after dyke breach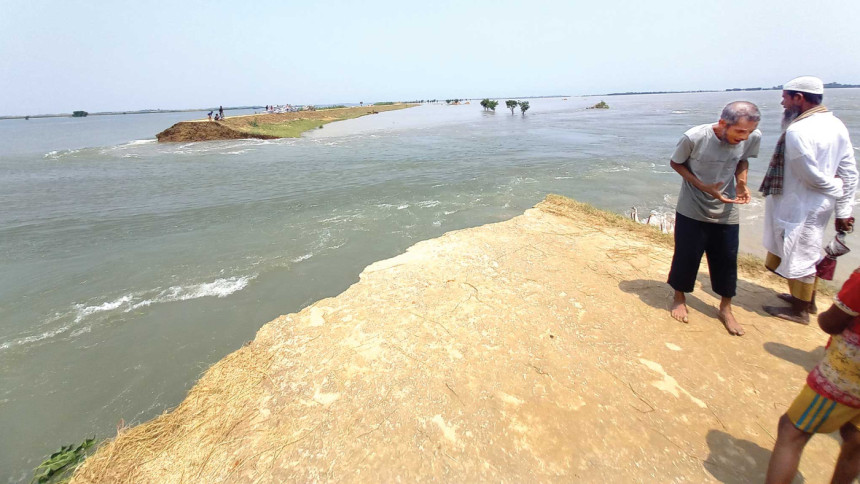 All of my harvest in 4-bigha land has been washed away. I don't know what to feed my family now.
After Chhayar Haor in Sunamganj's Derai upazila, Halir Haor in Jamalganj upazila is next in line to be submerged, as the dyke in Ahsanmara area in the upazila got damaged on Monday night.
The Department of Agriculture Extension (DAE) claimed that only paddy on 500 hectares out of 5,220 hectares is at risk, but most of them will be harvested before the haor is completely flooded.
However, farmers claimed that almost half the paddy of 5,220 hectares is at risk, as that much harvested paddy was gathered in the haor, waiting to be transported.
"My 350-mound harvested paddy was stacked in the haor and washed away in a few hours, after the dyke broke and water from Boulai river entered," said Mohibur Rahman, a farmer.
Sobun Nesa, an elderly farmer, said, "All of my harvest in four-bigha land has been washed away. I don't know what to feed my family."
Farmers said the rice variant BRRI-29 is mostly harvested in the haor, which takes longer than BRRI-28, and they just started harvesting and stacking the paddy in the haor.
They claimed that the negligence of Water Development Board and the Project Implementation Committee (PIC) was behind their loss, as they did not listen when farmers informed them of the deteriorated condition of the dyke.
This correspondent could not contact PIC's president Mohibur Rahman, as his contact number was found switched off.
Jamalganj UNO Bishwajit Deb said, "For more than 20 days, water was entering through the mud-made dyke, which became weaker and developed many holes."
Prabir Kumar Goshwami, a superintendent engineer of WDB in Sunamganj, said, "We are now trying to block the entry of water, so that the water level in the haor does not increase."
Bimol Chandra Ghose, deputy director of DAE in Sunamganj, said, "It will take two more days before the haor floods completely and submerges the remaining paddy in 500 hectares. Twenty combine harvesters and hundreds of people are working there to save the harvest."
"We are hopeful that we will be able to save most of them [paddy]," he added.