Lavrov's visit significant on several counts
Foreign policy experts say as the Russian foreign minister flies in today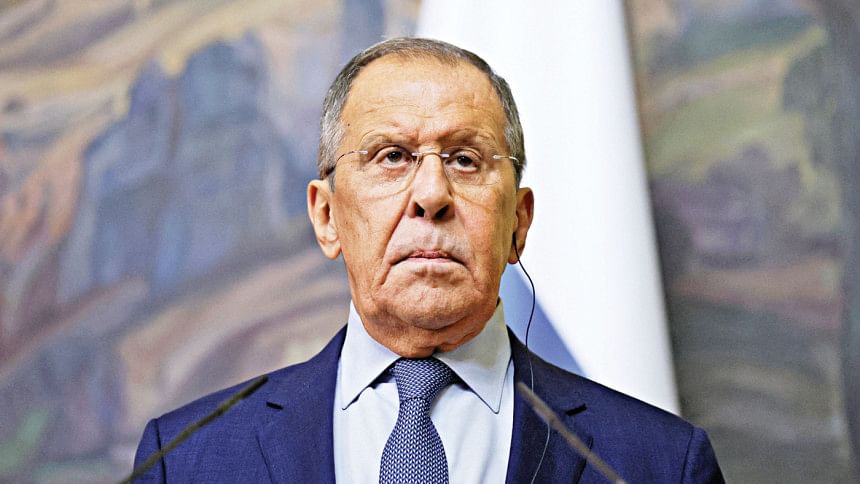 Russian Foreign Minister Sergei Lavrov arrives in Dhaka on a two-day visit this afternoon just months ahead of the general election amid an evolving geopolitical shift.
Foreign policy experts said the first visit to Bangladesh by any Russian foreign minister since independence explains how Russia attaches importance to the relations with Bangladesh during a difficult time in history.
With the Indo-Pacific region becoming a focus of the global powers, Russia is also exploring new friends and alliances everywhere around the world, they said.
The visit is also important for Bangladesh, which is facing pressures over elections and human rights issues from the US and other western powers, as Lavrov will potentially assure the government of its support, they noted.
"Russian foreign minister's visit to Bangladesh is important for multiple reasons – geopolitics, geoeconomics and geoenergy," said former foreign secretary Shahidul Haque.
Lavrov, who was scheduled to visit Dhaka in November last year but had to cancel it because of his schedule changes, will be flying to Dhaka after attending the East Asia Summit in Jakarta today.
He will hold an official meeting with Foreign Minister AK Abdul Momen in the evening. He will call on Prime Minister Sheikh Hasina tomorrow before flying to New Delhi to attend the G20 summit.
The Soviet Union played critical roles in the independence war of Bangladesh and also helped remove mines and debris from Chittagong Port in the post-independence period.
"Russia has always stood by Bangladesh. The exception is the Rohingya issue," said Shahidul Haque, also senior fellow at the South Asian Institute of Policy and Governance at North South University.
Russia along with China, did not vote for Bangladesh on Rohingya-related resolutions at the UN Security Council, though the Rohingya population faced genocidal actions by the Myanmar military. Russia is also a major arms supplier to the Myanmar junta, which took control of the country through a coup in 2021.
Bangladesh, meanwhile, took a balanced position at the UN on Russia-Ukraine war. Dhaka abstained from voting in two United Nations General Assembly resolutions and voted for Ukraine in one.
There are major stakes in Dhaka-Kremlin ties at the moment. Bangladesh is constructing its first ever nuclear power plants worth $12.65 billion with Russian support. The bilateral trade between the two countries is $1.2 billion.
In February this year, Russia summoned Bangladesh ambassador to Russia protesting Dhaka's decision to block sanctioned Russian ships.
In December last year, Bangladesh refused a Russian ship, which was carrying equipment for the nuclear power plant, for berthing following the US objections as the ship was sanctioned by Washington.
Later, Dhaka imposed restrictions on the entry of 69 Russian ships into Bangladesh's maritime waters for US sanctions.
The repayment of Russian loan also faces challenges because of western restrictions on Russia blocking many Russian banks from using SWIFT, which enables global financial transactions.
Early this year, Bangladesh and Russia agreed to use yuan to settle payments, but no payment could be made through yuan so far, officials said.
Foreign Minister AK Abdul Momen last week told journalists he will request Lavrov for timely implementation of the Rooppur nuclear power plant.
The discussion will include grains and fertiliser supplies, Russia's support in solving the Rohingya crisis and a peaceful solution to the war in Ukraine, he said.
Shahidul Haque said it is not Bangladesh's fault that it is not being able to repay the Russian loan. Bangladesh is ready and able to pay. Therefore, Russia has to fix the issue.
"So, Bangladesh should explain clearly why it had to restrict the ships and how it is not being able to repay the loan. I am sure Russia will understand this."
The Russian visit ahead of Bangladesh's national elections has some significance too, analysts said.
Foreign relations analyst Air Commodore (retd) Ishfaq Ilahi Choudhury said the US and its western allies have been calling for free and fair elections. Washington also imposed sanctions against Rab in 2021 and announced a visa policy in May this year.
On the other hand, Russia, alongside China, described the US and EU statements on Bangladesh's elections as "neocolonialism" in an attempt to interfere in Bangladesh's internal affairs.
A foreign policy expert said Lavrov is likely to convey Russian support for the government, and the government would also like to showcase this support to the western powers.
Ishfaq Elahi Chowdhury said the US and Europe are major export markets for Bangladesh. So, these countries are extremely important for Bangladesh. If Dhaka can play its cards right, it can strike a balance with the great powers and gain.
Dhaka University International Relations Prof Syeda Rozana Rashid said Bangladesh is almost a middle power now. If it can play well, it is possible to get support of the great powers in addressing the crises such as the Rohingya crisis.