Italy eyes long-term LNG supply deal with Bangladesh
Says envoy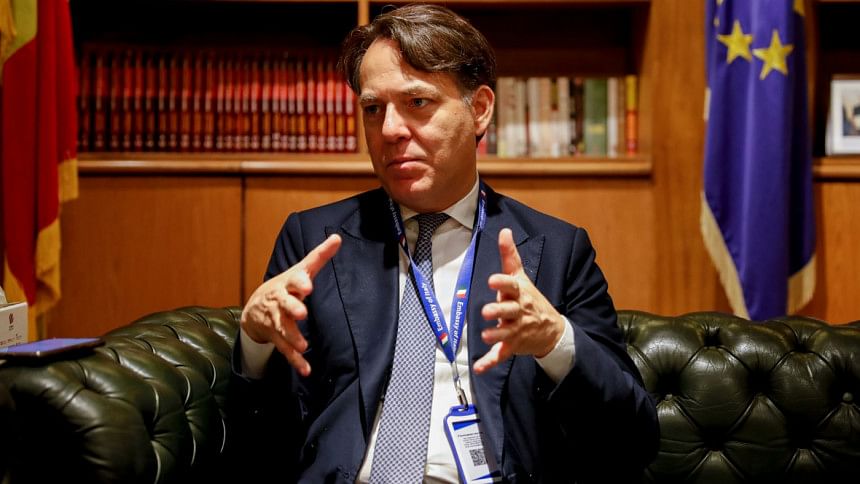 Italian Ambassador to Bangladesh Enrico Nunziata has said his country is interested in a long-term agreement with Bangladesh to supply LNG.
But, for the time being, considering the current energy situation in Europe, the scope of collaboration may be on a short term basis, he added.
"Of course, we are much more interested in a long-term [LNG] agreement. The situation in Europe is a bit changed now. For the time being, the collaboration scope is in the short term," he told UNB in an interview.
The ambassador said his country wants to participate in energy sector cooperation and their company, ENI, is already shortlisted by Petrobangla for selling the LNG (liquefied natural gas) in private market.
"We have worked a lot on that in Italy. So, we have already some other sources of supply that can substitute the supply that we use quite from Russia. So, when this will be again at a certain level, of course, we can start to export LNG in other markets," he said.
Regarding Italy's interest in offshore exploration, Ambassador Nunziata said, "Yes, there are discussions but these are still at a level of proposal. We have to carry on with these discussions and see what will be the possibility there."
The Italian ambassador said they are discussing a possible memorandum of understanding on mobility and migration, especially the content of this memorandum.
"We want to go further in our cooperation on migration issues. In particular, creating and enlarging the existing legal channels or legal pathways for migration while stemming the irregular one," he said.
The envoy said the two countries have to deepen the cooperation in preventing and fighting against irregular migration, trafficking and so on.
Ambassador Nunziata remembered one of the deliverables during Prime Minister Sheikh Hasina's visit to Italy in 2020 - reinsertion of Bangladesh in the list of countries whose nationals can benefit of a quarter for work.
"We have issued more than 12,000 visas for work from 2021-2022. Then there is a family reunion, business, and so on. But I'm focusing now on work. This new flow will call then families and so on. So, this will carry on," he said.
The ambassador said prevention of irregular migration is very important. The prevention means also creating awareness, organizing campaigns on the risk of the irregular migration.
"We are opening new legal channels. So, you have to benefit of these agreements, of these new possibilities, and try to follow that path," he said.
There is a proposal on draft of a memorandum of understanding on security in general, the envoy said, noting the collaboration among the police forces of the two countries.
"So, we want a stronger cooperation. We want to promote exchange of best practices, exchange of trainings, talk to each other to know each other much better at the level of police forces," he added.