Bangladesh to maintain good relations with US, India, China: Momen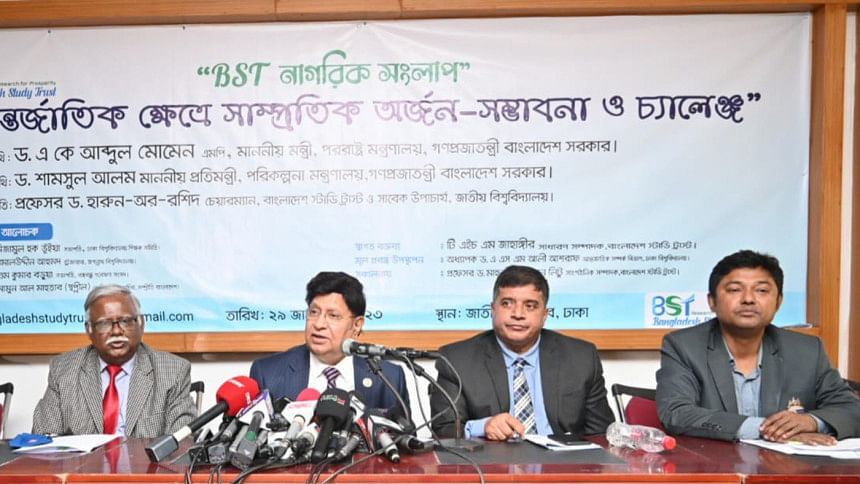 Foreign Minister AK Abdul Momen today said Bangladesh would continue to maintain a balanced foreign policy, noting the importance of the country.
"My challenge is, there are three countries -- the US, India and China. These are powerful countries. I have to maintain the relationship with these three countries in such a way so that we can have an improved relationship with each country," he said.
The minister was speaking as the chief guest at a citizens' dialogue on Bangladesh's achievements, opportunities and challenges. Bangladesh Study Group hosted the dialogue at the National Press Club.
Momen said Bangladesh cannot ignore any country and reiterated that it is maintaining a balanced role in regards to ties with India and China. "We need to move ahead maintaining a balance with them."
The foreign minister said Bangladesh has become a centre of interest due to its important location. He thinks the future world will be an Asian-led world.
Asia is on track to top 50 percent of global GDP by 2040 and drive 40 percent of the world's consumption.
The foreign minister also said that the USA is a "major power" and Bangladesh will have to pursue good relations with the United States. "You will be happy to know that we have developed a very good relationship with India."
He said Bangladesh is going through a "golden chapter" in terms of its relations with India and the trade relations between the two countries are also on the rise.
Momen thanked the Indian government for demonstrating its respect for Bangladesh through invites to all the meetings and Summit of the G20.
The Foreign Minister is scheduled to attend the G20 foreign ministers' meeting – to be held in New Delhi, India on March 1 and 2.
He said it is not so easy to have equally good relations with all the major powers but Bangladesh is lucky to manage it comfortably as there is a "great and pragmatic leader" like Prime Minister Sheikh Hasina.
The foreign minister also highlighted Bangladesh's friendly relations with Russia, the European Union and the countries in the Middle-East including the Kingdom of Saudi Arabia.
Momen said Bangladesh has three major resources: human resources, fertile land and water.
"We will be able to achieve the goal of 'Sonar Bangla' if these three resources are properly utilised," he said.
Appreciating Prime Minister Sheikh Hasina's leadership, Momen said Bangladesh's dignity has been boosted globally through her development efforts.
The foreign minister said Bangladesh is now considered a model for economic development.
Momen said peace and stability are very important to continue the development journey.
"We don't want to hurt peace and stability. Even, we are promoting peace and stability in the region," he said, adding that those countries are doing very well economically where peace and stability are ensured.State Minister for Planning Dr Shamsul Alam spoke as special guest at the discussion chaired by Bangladesh Study Trust Chairman and former Vice Chancellor of National University Prof Dr Harun-or-Rashid.
Dhaka University International Relations Department Prof ASM Ali Ashraf presented a keynote paper while Bangladesh Study Trust General Secretary TH M Jahangir delivered welcome remarks.