Collective effort needed to ensure land rights for marginalised people
Says planning Minister MA Mannan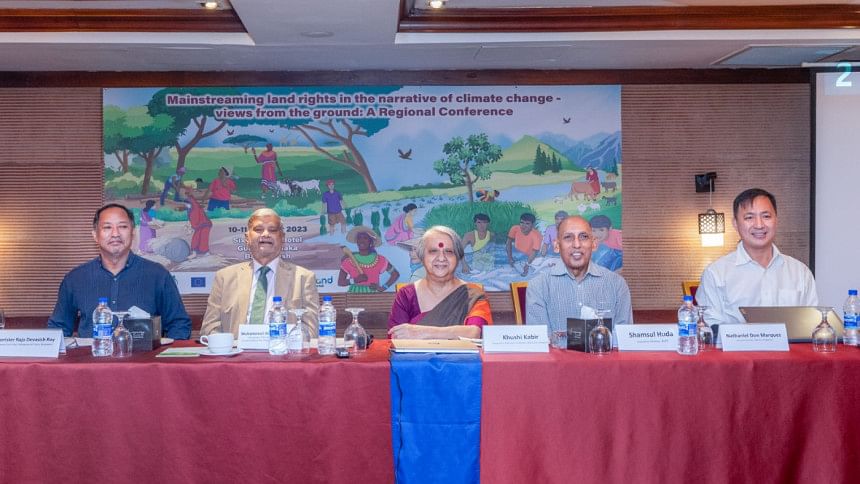 Marginalised people are often deprived of land ownership and evicted from their land. To address this injustice and provide opportunities for landless and marginalised farmers, citizens need to work together, Planning Minister MA Mannan said today.
He made the remark at the regional conference "Mainstreaming Land Rights in the Narrative of Climate Change - Views from the Ground," which began today in Dhaka, Bangladesh.
The Asian NGO Coalition for Agrarian Reform and Rural Development (ANGOC) and the Association for Land Reform and Development (ALRD) have jointly organised the two-day regional conference to bring together key stakeholders and experts from different countries.
Shamsul Huda, executive director of ALRD, urged participants to collaborate in finding solutions to the complex challenges posed by climate change and land rights. He emphasised the importance of garnering support from governments and exerting pressure on international actors and development nations to fulfill their commitments.
Khushi Kabir, chairperson of ALRD, noted that while policymakers in the country have signed international agreements, their commitment to policy implementation often falls short.
Planning Minister MA Mannan, the chief guest, pointed out that injustice in land ownership is not unique to Bangladesh but is a prevalent issue in many countries due to discriminatory rules and regulations. He stressed the importance of collective efforts to establish justice and create opportunities for marginalised farmers.
Nathaniel Don Marquez, executive director of ANGOC also spoke at the programme. The two-day conference includes attendees from numerous organisations representing countries like Bangladesh, Philippines, Madagascar, and more.