14,000 workers, engineers built Padma Bridge in nearly 2,765 days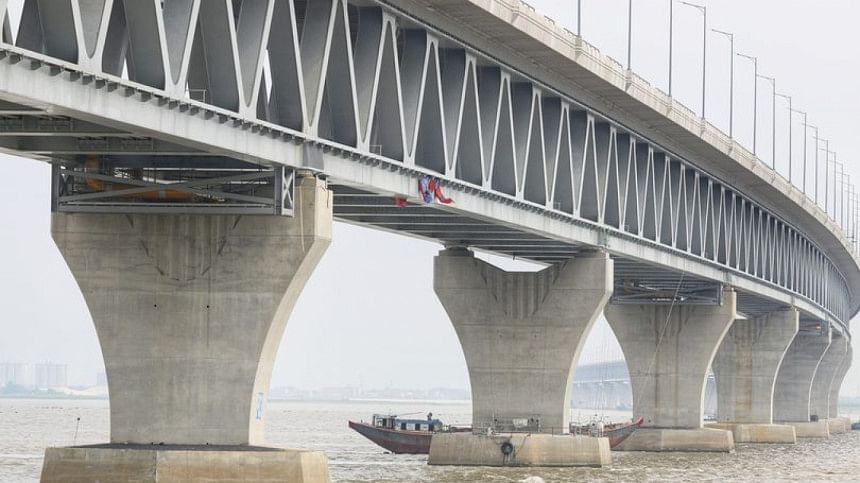 It took around 2,765 days or 7 years 6 months and 27 days to complete the construction of the Padma Bridge.
The construction of the Padma Bridge began on November 26, 2014 and was completed on June 22 this year. Tomorrow PM Sheikh Hasina will inaugurate the bridge.
Around 14,000 domestic, foreign workers, engineers and consultants worked day and night for the Padma Bridge. Of them, about 1,200 were local engineers, 2,500 foreign engineers, around 7,500 local workers, 2,500 foreign workers and around 300 local and foreign consultants.
The information was confirmed by the engineers of Padma Bridge. They said, engineers from 20 countries, including China, Canada, United States, Nepal, Sri Lanka, Malaysia, Australia, Germany, England, South Korea, Netherlands, and New Zealand worked in the construction.
Apart from this, people from 15-20 districts including Munshiganj, Shariatpur, Madaripur, Gaibandha, Jashore, Noakhali, Barishal, Bogura, Tangail have worked as labourers for the Padma Bridge. Each labourer worked eight hours per day as per their work schedule.
The number of engineers and workers who were involved from the beginning of the project has decreased now. Because, when the work of different stages is completed, they are no longer needed.
According to the engineers, those who have worked in the Padma Bridge project can easily overcome any difficulties in the construction of mega structures in the country. Many technologies have been used here that have been used for construction of bridges around the world. Through this project, engineers and workers have gained real work experience.
Arif Hossain, a worker, said that he has been working on Padma Bridge since 2014. "I worked hard. When people made fun of the bridge, we remained silent. But we believed that the bridge will be completed after overcoming all the obstacles. Now we can cross the mighty river through the Padma Bridge," he said.
Alamgir Hossain, in-charge of safety at the bridge, said, "I started working on the bridge in January 2015. It was my responsibility to ensure safety of the workers. The entire country came to a standstill during the lockdown amid coronavirus pandemic. But the work on the Padma Bridge never stopped. The work has progressed despite the speed was slow. The workers and engineers worked in the Padma river ignoring the hailstorm and rain, and the unforgiving sun. The work was going on 24 hours a day."
Rahat Hossain worked as an engineer on the bridge for almost four years. He said, "We were busy working on the bridge when everyone was celebrating Eid with their families. Keeping the pace of work, many labourers and engineers did not take leave. We have also stayed in the bridge project area during festivals. We haven't seen the faces of our loved ones for a long period. Now, these sacrifices have paid off."