Police-Mob Clash: 3 killed in Chandpur
Unrest in Cumilla sparks the incident; many injured; govt orders probe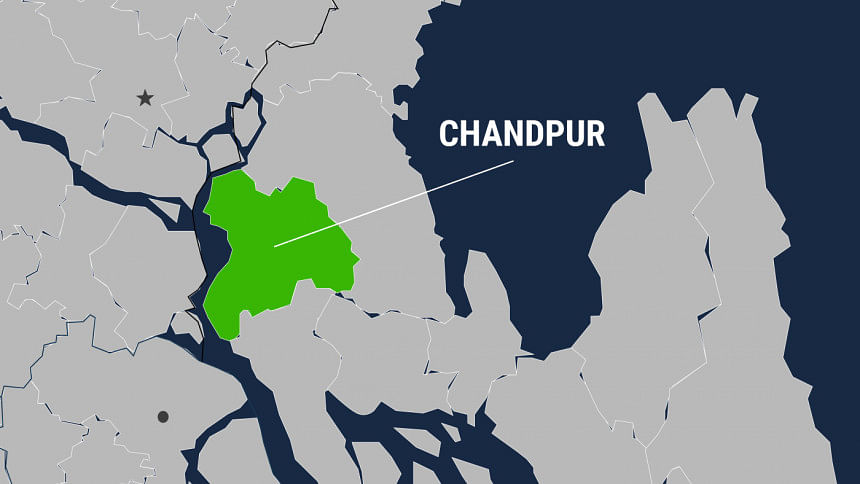 Three people were killed and many others injured yesterday as mob and police clashed in Chandpur's Hajiganj upazila while violence erupted in several districts following reports of "demeaning the Holy Quran" in Cumilla.
Authorities imposed Section 144 in Hajiganj following the violence and deployed two platoons of Border Guard Bangladesh (BGB) to restore law and order, reports our Chandpur correspondent.
There were also clashes in Cumilla, Chattogram, Kurigram and Moulvibazar, where Hindu idols and temples were vandalised as the country observes Durga Puja. At least 50 people were injured in the clashes in Cumilla.
The administration in Chattogram deployed eight BGB platoons in six upazilas of the district last night, after several temples of the Hindu community were reportedly attacked in Banshkhali and Karnaphuli upazilas.
Talking to The Daily Star around 1:40am today, Nazimuddin, sub-inspector of Hajiganj Police Station, said three people were killed in the clash in the upazila.
"There are injury marks on the bodies but I cannot say what caused those," he said, adding that at least 15 police personnel were injured. Of them, eight were admitted to hospital.
Local media outlets reported that at least 60 people, including journalists, police and common people, were injured in the clash.
Superintendent of Police in Chandpur Milon Mahmud said a procession was brought out from Hajiganj Biswaroad intersection area after Esha prayers last night.
Encircling the main road near Hajiganj Bazar twice when the procession was crossing the eastern side of Hajiganj Bazar, a sudden attack was launched on the Lakshmi Narayan Akhra (Trinayani) Puja Mandap.
Police fired teargas shells and shots in the air to bring the situation under control. The police action led to the clash.
According to sources at Hajiganj Upazila Health Complex, the deceased were Alamin, 18, of Barakul union of the upazila, Yeasin Hossain Hridoy, 15, of Randhunimura area and Bablu of Chapainawabganj.
Earlier yesterday in Cumilla, at least 50 people were injured as a group of religious extremists clashed with law enforcers in Nanua Dighirpar area over reports of "demeaning the Holy Quran" at a Puja Mandap.
The government asked local administration to investigate the incident that created a tense situation in the district, and urged all to maintain religious harmony. BGB members have already been deployed there.
The religious extremists started rushing to the Mandap area around 9:00am after a video went viral on social media. Members of law enforcement agencies arrived within a very short time at the Mandap where Hindu devotees were celebrating Durga Puja, said police.
"We informed our higher authorities immediately about the matter and beefed up security there," said Anwarul Azim, officer-in-charge of Cumilla's Kotwali Model Police Station.
To quell the situation, the deputy commissioner and superintendent of police in the district held a meeting with the local Hindu community and others around 10:00am.
By then, several groups under banners of different Muslim religious organisations gathered in Nanua Dighirpar. As the meeting was ongoing, the mob attacked the mandap around 10:30am, said locals and police.
Contacted, Cumilla DC Kamrul Hasan said all necessary measures would be taken to investigate the matter and punish the culprits.
In Chattogram, BGB was deployed from 9:00pm, Omar Faruk, staff officer of the Chattogram deputy commissioner's office, told The Daily Star.
Police and administration sources confirmed three incidents of attack in Banshkhali's Chambal area, Kali Mandir municipality and Karnaphuli upazila.
"There were some incidents at Banskhali and Karnaphuli upazilas but the situation is now under control," said Chattogram DC Md Mominur Rahman.
Omar Faruk said, "In Banshkhali, Hathazari, two platoons of BGB have been deployed while one platoon BGB has been deployed for each of Fatickchari, Sitakunda, Patiya, and Chandanaish upazila each."
"Apart from that, two executive magistrates were also sent to six upazilas to take necessary actions," said Omar Faruk.
DC Mominur Rahman said, "several more platoons of BGB will be deployed in the district and Metro area by morning."
Chattogram Metropolitan Police commissioner Saleh Mohammed Tanvir told " police are on alert in the temple so that no one can fish in troubled water destroying the harmony."
In Kurigram's Ulipur upazila, several temples were vandalised and one was even set on fire.