Rickshaw-Puller's Killing : Jubo League leader, his aide arrested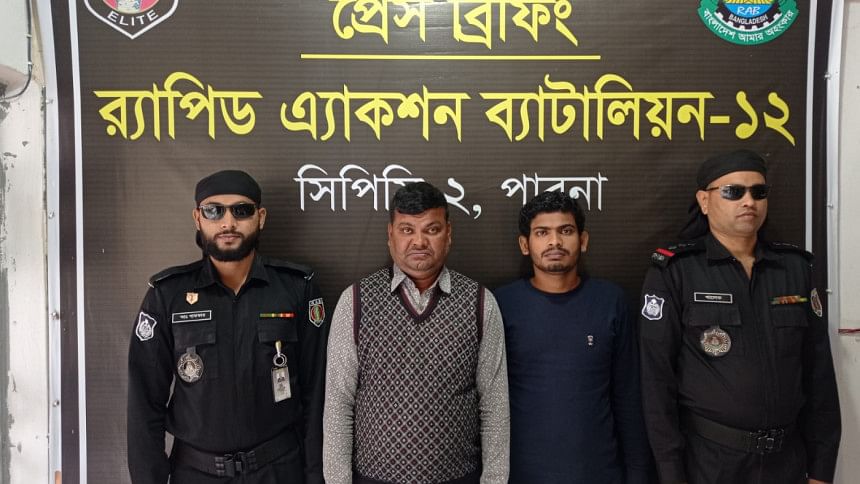 Rab arrested local Jubo League leader and municipality Councillor Kamal Uddin early yesterday over the killing of a rickshaw-puller during Wednesday night's gun violence in Ishwardi, Pabna.
Rab also arrested Kamal's aide Hridoy during a raid on Shoilopara area around 3:15am, said Squadron Leader Tauhidul Mobin Khan.
The arrestees were handed over to Ishwardi Police Station, said a press release.
Kamal, 48, also the president of ward unit Jubo League, his brother Anwar Hossain, a Jubo League activist, and two others were accused in a case filed by the rickshaw-puller's mother Lipi Begum, said Arbinda Sarkar, officer-in-charge of Ishwardi Police Station.
Around 9:00pm on Wednesday, two groups of men were arguing over a crash between a human haulier and a three-wheeler in the Poshchim Tengri area of Ishwardi.
"While the two groups argued, Jubo League activist Anwar Hossain and his associates suddenly appeared at the scene and opened fire at the men taking the human haulier driver's side," said Arbinda.
Rickshaw-puller Mamun, who happened to be at the scene, got shot and died, locals said,
Two others, Sumon Hossain, 28, and Roky Hossain, 26, were taken to Rajshahi Medical College Hospital with serious injuries.
Police said they were looking for the other suspects.