Katakhali Mayor Abbas arrested from Dhaka, was planning to leave country: Rab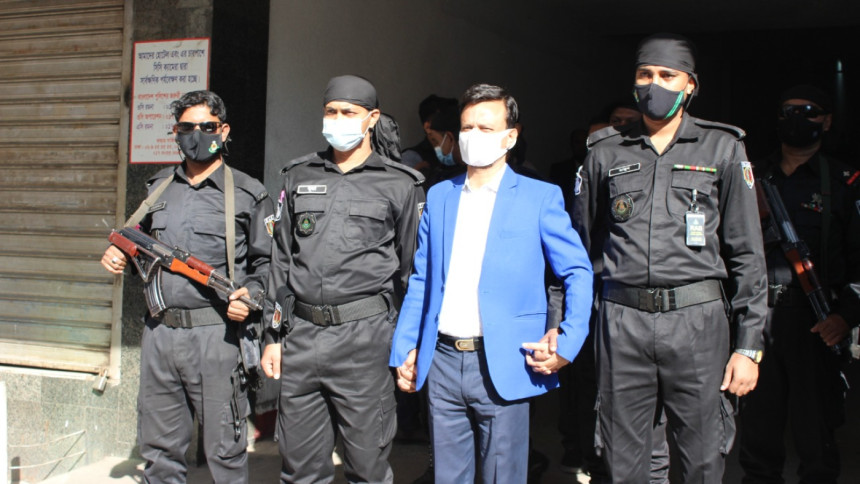 Rab arrested Katakhali Municipality (under Paba upazila in Rajshahi) Mayor Abbas Ali from a hotel in Dhaka following his remarks about a mural of Bangabandhu Sheikh Mujibur Rahman that drew much criticism.
A team of Rab arrested him from Hotel Razmoni Ishakha early this morning, said ANM Imran Khan, Rab's Legal and Media wing assistant director, said.
Briefing reporters on the spot around 9:30am, Khandaker Al Moin, Rab's Legal and Media wing director, said Rab arrested him as he was accused in several cases.
Abbas has been hiding at different hotels in Dhaka without carrying any digital devices. No mobile phone was found with him during the drive, he added.
A passport was found with Abbas who said he had planned to leave the country, the Rab official said.
In primary interrogation, he admitted that he made the remark which spread on social media, Moin added.
The arrest came after at least three cases were filed against Abbas, including one under Digital Security Act, for making derogatory remark about Bangabandhu's mural.
The audio clip of Abbas' remarks that had been doing rounds on social media since November 21 drew widespread criticism and induced protests on the streets of Rajshahi city, Paba and Katakhali.
Paba upazila unit of the Awami League later removed Abbas Ali from the post of convener of the party's Katakhali municipality unit and recommended the central committee to expel him from the party.
In a 1.51-minute audio clip, Abbas was heard saying, "I'm not allowing construction of the Bangabandhu mural… it is not right as per the Islamic Shariah laws. I will do whatever it takes to stop it."
Claiming that the audio clips were not his, Mayor Abbas Ali said, "It's a conspiracy against me."