Odhikar secretary, director jailed for two years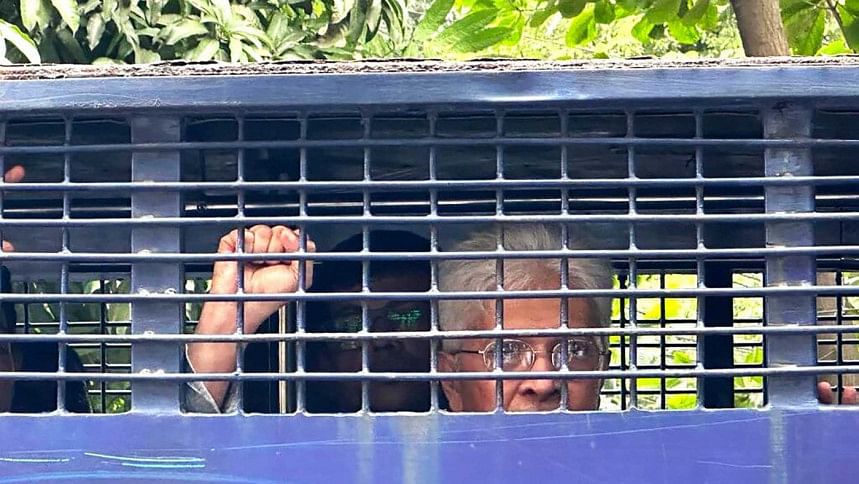 A Dhaka tribunal today sentenced two officials of rights body Odhikar to two years imprisonment each in an ICT Act case.
The two are Odhikar Secretary Adilur Rahman Khan and Director ASM Nasiruddin Elan.
Judge AM Julfiker Hayet of Dhaka Cyber Tribunal announced the verdict in presence of the duo, said our court correspondent from the court.
The court also fined each of them Tk 10,000, in default of which, Adilur and Elan have to serve one month in jail.
After the verdict was pronounced, Public Prosecutor Md Nazrul Islam Shamim told The Daily Star that they were not satisfied with the judgement.
They would challenge the judgement with the High Court after receiving the certified copy of the verdict, he said.
The case was filed for running "a distorted report and doctored images" about the May 5-6, 2013 police action on a Hefajat-e-Islam rally in the capital's Motijheel.
On June 10, 2013, Detective Branch (DB) of police filed a general diary with the Gulshan Police Station in this connection, which was later converted into a case.
Detectives arrested Adilur at Gulshan on August 10, 2013 shortly after filing the GD complaining that the rights body on its website ran a false report titled "Assembly of Hefajat-e Islam Bangladesh and Human Rights Violation".
The report tarnished the image of the country, its government and the law enforcement agencies, read the GD.
Odhikar's report claimed that 61 people died in the wee hours of May 6 when the law enforcers flushed several thousand Hefajat activists out of the Shapla Chattar in the capital's Motijheel. The government, however, put the number of deaths at 13.
Briefing the press at the media centre of Dhaka Metropolitan Police (DMP) on August 10, 2013, Monirul Islam, the then joint commissioner of DMP, said no lethal weapons were used to drive the Hefajat men out of the Shapla Chattar.
Law enforcers only used tear gas shells, sound grenades and water cannons to disperse the Hefajat men, he added.
Referring to the violent incidents at Paltan and Motijheel areas between May 5 morning and early hours of May 6, he said a total of 13 people, including police officials, transport workers and pedestrians, died in those incidents.
On the pictures used in the Odhikar report, Monirul said though the report was based on the incidents of that night, some pictures were of those who had died earlier in the day (May 5), and some were of people who are still alive.
After probing the case, the DB on September 4 the same year pressed charges against Adilur and Elan.
Detectives on August 11, 2013 raided the Odhikar's Gulshan office and seized three laptops and two desktop computers, which were used to prepare the fake list of 61 dead victims.