Manufacturing crossfire: Court gives insights into how extrajudicial killings take place
Yesterday's landmark verdict that sentenced two cops to death and six for life also offered a rare glimpse into how a "crossfire" is cooked up.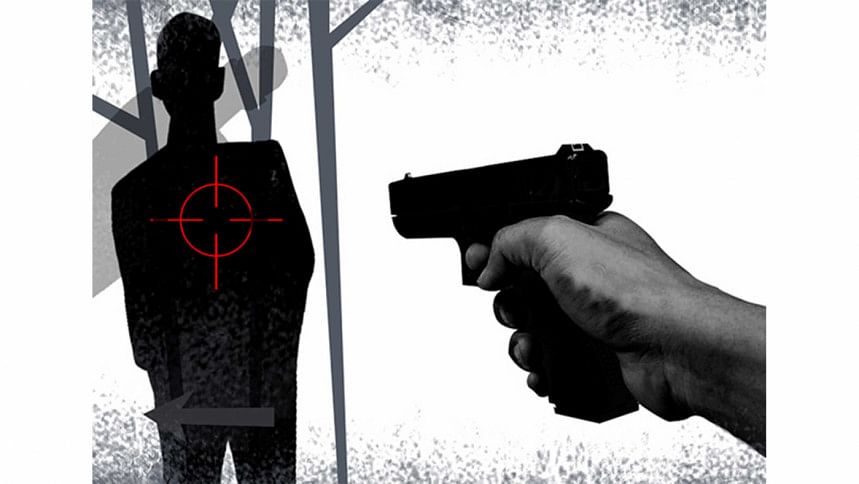 Yesterday's landmark verdict that sentenced two cops to death and six for life also offered a rare glimpse into how a "crossfire" is cooked up.
The usual storyline offered is that law enforcers encounter a group of criminals who begin the offence, compelling the former to shoot in defence.
Another version is that an arrestee is taken by the law enforcers to a remote location for drugs or arms recovery when the group is attacked by the arrestee's cohort. A shootout ensues and the only one dead is the arrestee.
A similar version was first presented in Major (retd) Sinha Rashed Khan's case.
The police had said that Sinha had aimed a gun at them when they stopped his car and inspector Liaqat Ali shot Sinha in self-defence, according to the first information report (FIR) of the case filed by sub-inspector Nandadulal Rakshit with Teknaf police station.
Sinha was rushed to the Cox's Bazar district hospital but died on the way.
Police have recovered drugs and a gun in Sinha's car and then followed up with a drive in his hotel. The drive yielded more narcotics, the FIR added.
The court yesterday ruled that none of the events took place: it was not a "shootout" as the cops maintained but a premeditated murder planned in cold blood.
On the day he was killed, Sinha met with the villagers of Marishbunia while filming and then identified himself, according to the charge sheet of the case filed by Rab-15.
The villagers were victims of the Teknaf police station's former officer-in-charge Pradeep Kumar Das. But among them were Nurul Amin, Ayaz Uddin and Md Nezam Uddin, all informants of the police. They tipped off Pradeep on the development.
Pradeep then informed Liaqat, who then met with the villagers.
As Sinha walked towards his car parked on Marine Drive, Ayaz followed him to ensure what direction the car was taking.
The verdict states that he then called Inspector Liaqat at 8:47 pm. Liaqat and Nandadulal then positioned themselves at the APbn checkpoint at Shamlapur -- after removing the three men manning it.
The three APbn members were ordered to help Liaqat and Nandadulal put up a barricade of oil drums at the checkpoint.
At 9:25 pm Sinha's car reached the checkpoint. He stopped the car and identified himself.
At that point, Liaqat aimed his gun at Sinha and hurled a stream of verbal abuse at him. In response, Sinha and his partner Shahedul Islam Sifat got down from the car with their arms in the air, the verdict said.
It was at that moment that Liaqat shot two rounds of bullets at Sinha. He took a step and then shot two more rounds, making Sinha fall to the ground.
Liaqat then instructed Nandadulal to handcuff Sinha, while sub-inspectors Shahahan Ali and Rajib Hossain tied up Sifat.
Following this, Liaqat instructed assistant sub-inspector Liton Miah and constables Abdullah Al Mamun, Kamal Hossain Azad and Safanul Karim to come to the spot from Baharchara investigation centre.
On arrival, they were asked to guard the area so that eye-witnesses could not enter the scene.
The four were acquitted yesterday.
Liaqat called Pradeep at 9:30 pm and 9:54 pm, and the latter arrived at the spot at 10 pm, the judgment said. He spoke privately with Liaqat, spoke on the phone with his higher officials and then approached Sinha.
"When a dying Sinha wanted water and begged for his life, Pradeep verbally abused him and stomped on the left side of his chest and his neck until he died," the court judgement said.
To hide their activities, they blindfolded Sifat and pushed him inside the APbn check post and waterboarded and physically tortured him, it added.
To stage a drug recovery, Sifat was then taken to the hotel where he and Sinha were put up at.
The charge sheet stated that a few minutes before 10 pm, constables Abdullah and Kamal arranged for a small pick-up van and Sinha's body was loaded at 10:40 pm to be taken to the hospital.
The charge sheet prepared by the prosecution said they intentionally delayed taking him to the hospital.
He was brought into Cox's Bazar District Hospital at 11:55 pm where was declared as "brought in dead".