Rohingya camp : 1 killed as shell from Myanmar explodes
Five injured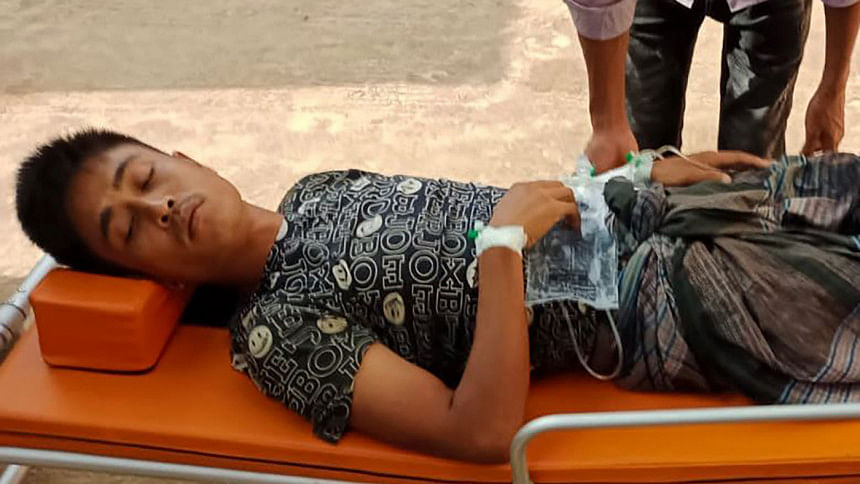 An 18-year-old Rohingya man was killed and five others, including two children, were injured last night as a mortar shell fired from Myanmar exploded at a Rohingya camp on no-man's-land near Tumbru bazar in Bandarban's Naikhongchhari upazila.
Iqbal Bari, son of Monir Hossain, died on the way to a hospital, said Dil Mohammed, a community leader of the Konarpara camp in Ghumdum area.
The injured, Muhammad Anas, 15; Sadia, 10; Zahid Alam, 30; Nabi Hussein, 22; and Sabekun Nahar, were taken to an MSF Hospital in Kutupalong, Cox's Bazar.
Contacted, Ashok Kumar Paul, additional superintendent of police in Bandarban, said he had been informed that a Rohingya youth got killed after a shell exploded in the camp.
Three shells landed on the camp around 8:30pm and one of them exploded, said Dil Mohammed, adding that the unexploded shells fell within 10 yards of the refugee settlement.
He further said Iqbal had arrived at the no-man's-land in 2017 amid a military crackdown on the Rohingyas in Myanmar.
Meanwhile, the authorities last night ordered moving all SSC examination centres from Ghumdum area to Kutupalong in Cox's Bazar, said Yasmin Parvin Tibriji, deputy commissioner of Bandarban.
BANGLADESHI MAN INJURED
A Bangladeshi man lost his leg in a "landmine explosion" inside Myanmar territory near Bandarban's Naikhongchhari border yesterday.
Aoung Gya Thowai Tanchangya, 22, of Tumbru Hedmanpara area at Ghumdhum union, was trying to bring back his cattle that crossed the border while grazing, said witnesses.
Ghumdhum Union Parishad Member Anwar Hossain said many people in the area rear cattle and the animals often cross into Myanmar.
The explosion took place around 300 metres inside Myanmar border. Aoung's ankle and foot were severed, he said, quoting locals.
Ghumdhum Union Parishad Chairman Jahangir Aziz also confirmed the incident.
Aoung was rushed to a local hospital after the incident.
Later, he was shifted to Cox's Bazar Sadar Hospital and then to Chattogram Medical College Hospital.
Contacted, Naikhongchhari Upazila Nirbahir Officer Salma Ferdous said, "Border Guard Bangladesh has beefed up its surveillance in the bordering area after the incident."
Asked, Tantu Saha, officer-in-charge of Naikhongchhari Police Station, said he was unaware of the incident.
Lt Col Md Mehedi Hossain Kabir, commanding officer of 34th BGB battalion, could not be reached over phone after repeated attempts.
[Our Bandarban and Cox's Bazar correspondents contributed to this report]