Under OC Pradeep: Teknaf shook with 'crossfire' horror
Sinha murder verdict brings up tales of torture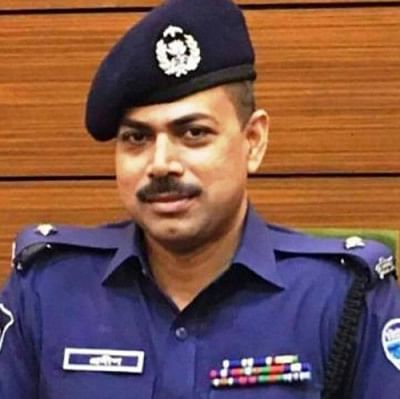 Several victims of the suspended officer-in-charge of Teknaf police station Pradeep Kumar Das gave testimonies against him during the murder trial of Major (retd.) Sinha Rashed Mohammad Khan.
The prosecution observed that according to the investigation report by the administration, OC Pradeep killed 204 people in crossfires -- and none got justice. The Daily Star has a copy of the 288-page-verdict.
When the prosecution argued that if OC Pradeep had not been arrested for the murder of Sinha, more crossfires would have taken place, the court observed in response that this claim is valid, substantiated and carries weight.
Many women like Senowara Begum would lose their husbands to "crossfire" as she lost hers, a CNG driver.
On December 3, 2019, her husband, a CNG driver, came from Chattogram to Cox's Bazar at 9 am and called her to tell her that he is in front of Cox's Bazar masjid market. His neighbour Shah Alam was with him, he said.
Shah Alam used to be an informer of OC Pradeep, Senowara told the court.
He told her that he needed to submit a document after which he would come home. An hour went by but she was unable to reach her husband.
She then called Shah Alam, who told her that OC Pradeep's men have taken her husband away to the Teknaf police station.
She went to Teknaf police station but they did not let her inside. She sat outside the station from 2 pm to 10 pm. Shah Alam had confirmed that her husband was inside, according to the verdict.
The next day she went to the station again and tried to file a general diary. But the police did not let her in.
Then Shah Alam told her that he knows where her husband is and asked her to go home. Still, she stood outside the Teknaf police station until 10 pm that day too.
Around 10 pm Shah Alam told her that her husband would be taken to his house at 11 pm. He asked her to be there with money.
She waited all night for his call, which never came. So she went to his house the next morning at 7 am. She asked Shah Alam why he didn't call her. Upon getting no answer she went back home.
Meanwhile, despite Shah Alam's warning, Senowara told Abdul Jabbar, a member of ward number 9.
That same afternoon, she went to meet a former MP and told him in detail what has happened. He called SI Moshiur and told him to release her husband. SI Moshiur denied having her husband in the police station. Then the MP called OC Pradeep and he too denied having her husband in their detention.
Some 15-20 days later, a local named Rafiq Ullah was taken away by OC Pradeep and his men and kept in the hajotkhana on the second storey of Teknaf police station. In the detention cell, Rafiq Ullah met Senowara's husband, who gave her phone number and asked him to contact her.
When Rafiq Ullah got out of the station, he called Senowara and asked her to meet him. "Please don't tell anyone you met me," Rafiq told Senowara when they met.
She, however, told the MP what happened. The MP asked her to go back to the police station. She did and demanded to see her husband.
But when they threatened her with arrest, she left the police station. She then sent a document to the superintendent narrating what happened.
Some three or four months later, OC Pradeep, Sagor Deb, Rubel Shwarma, Moshiur and 2-3 cops went to her home after the evening prayers and told her that she must pay Tk 10 lakh if she wants her husband back alive.
She told them: "My house is broken. I have no rice to cook, and my children are hungry. How will I give Tk 10 lakh?"
The verdict stated that she fell to Pradeep's feet, but the cop told her that she must manage Tk 5 lakh at least. Otherwise, she would not get her husband back alive.
To gather the Tk 5 lakh, Senowara took a Tk 1.5 lakh loan from a non-governmental organisation, sold off her husband's CNG for Tk 2.5 lakh and mortgaged her home for Tk 1 lakh. It took 15 days to gather the money.
Pradeep and his team then called in at her home and picked up the amount.
The next day, Senowara called Pradeep but he did not answer. She went to the police station and begged for her husband. "Pradeep did not respond -- he simply laughed."
On July 7, 2020, local journalists called her and told her that her husband's dead body was in the morgue. OC Pradeep had given him "crossfire".
The verdict stated that Senowara believes that her husband was tortured to death and then passed off as a "crossfire" death. He was declared to be the second-in-command of a robber named Hakim.
A local member and businessman named Ham Jalal told the court how he was extorted by the cops, and how his young brother was killed in a crossfire.
On January 23, 2019, six cops from Teknaf police visited the house and a sub-inspector named Sanjit told him to open the door or be shot. Four cops entered and two stood outside.
They told him that a listed drug trader had named him as a criminal. SI Sagor told him that he needed to pay Tk 20 lakh or be arrested.
When Ham Jalal said he did not have so much money, SI Sanjit called Pradeep to inform him, and the cop was instructed to detain Jalal.
Jalal was taken to the second storey of the police station where there are four rooms. In one of the rooms, detainees who would be sent off to "crossfire" are kept.
SI Sagar then turned to him and said: "You have earned a lot of money by becoming a member. Give Tk 15 lakh and we will tell sir to let you go. Otherwise, you will be dead on Marine Drive tonight."
Jalal agreed to give the money and asked the cop to contact the upazila rental car association's general secretary Rafiq. He was then thrown into a cell.
Then 15-20 minutes before dawn, constable Rubel brought a mobile phone and asked him to talk.
Rafiq was on the other end and he questioned how he would gather so much money. He asked Rafiq to sell his Noah microbus for Tk 12 lakh, take Tk 1.5 lakh from his savings and borrow the rest.
The next day his father went to meet OC Pradeep but was told that his son was not at the police station, the verdict said. The father went to meet Pradeep again two days later and was told to pay Tk 7 lakh in exchange for his son.
His father bargained and offered Tk 6 lakh. That night, at 1:30 am, constables Sagar and Rubel took him to Marine Drive and asked him to recite the kalima.
"You will shoot me. I want to talk to OC sir one last time," Jalal told them.
He was allowed to speak with the OC.
"I have four sons and one daughter. If you kill me, their future is doomed. I owe people around Tk 1 crore," Jalal told the OC and begged for two days. At that moment, the OC got a call.
The next day, he was charged with possessing 3,000 pieces of yaba. His father came to the police station, cried and said: "You took Tk 6.4 lakh from me to release my son." Jalal was in jail for three months.
Earlier on December 13, 2018, his younger brother Yusuf Jalal was detained by the police, the witness testified. He said that a Teknaf municipality driver came to their house and conveyed that Pradeep said that Yusuf can be released for Tk 1 crore.
They could not manage Tk 1 crore, and later that night, around 1 am, Yusuf was killed in a crossfire at Moulvipara neighbourhood. Nurjahan, a resident of a house nearby, witnessed the incident and fainted, Jalal said.
The court also took testimony from Daily Cox's Bazar Editor and Publisher Faridul Mostafa Khan, who was tortured by Pradeep for his journalism.
Khan had published news about Pradeep killing people in the name of crossfire, which angered the cop.
When the cops tried to detain Faridul, he escaped to Dhaka. He even wrote a letter to the Prime Minister, home minister and inspector general of police seeking help. The letters were submitted to the court.
Faridul had also filed a writ petition with the High Court seeking safety for himself and his family.
On September 21, 2019, Faridul was picked up from his home in Dhaka's Mirpur neighbourhood and brought to Teknaf police station.
He testified that the criminals stripped and videoed him. They rubbed chilli powder on his eyes and beat him up with hockey sticks. He told the court that OC Pradeep had urinated on his face.
Later that day he was taken to Marine Drive and was threatened with crossfire, but they changed their mind and prosecuted him for drug possession instead.
"Sinha would not have been killed if Farid's journalism had been paid heed, and Pradeep transferred out of Cox's Bazar," the court said.
Another victim Baby Begum testified. In 2019, fifteen days after Eid-ul-Fitr, OC Pradeep and 14 others raided their house for yaba.
Upon not finding yaba, they beat up her husband Ziaur Rahman, her 15-year-old daughter Nazneen Akhter and looted the house. She told the court that a constable took naga chilli peppers from the kitchen and rubbed them on her daughter's face.
Then the husband and the daughter were taken to the police station, she said. An informer visited their family and told Baby to pay Tk 5 lakh for the daughter and Tk 40 lakh for the husband.
When Baby said that she did not have that much money, they prosecuted Naznin with 2,000 pieces of yaba and OC Pradeep himself called Baby and threatened to kill Ziaur in a crossfire. Ziaur had been in illegal detention for 18 days.
During his detention, he was taken as an eye-witness to three crossfires and threatened with the same fate if his wife did not pay up.
Baby managed Tk 15 lakh and handed it over to Pradeep via informers.
She was on her way to Cox's Bazar to see her daughter when she was picked up by cops claiming to belong to the Detective Branch and later slapped with three cases.
Baby also said that when she met her daughter at court, Naznin told her she was sexually abused by the cops.
PRADEEP DEFLECTING BLAME
The verdict observed that in a last-ditch attempt to save himself, Pradeep tried to make others scapegoats.
When the prosecution finished their arguments, and the judge called the defence, Pradeep, who was standing on the docket, yelled and said he wants to say something.
"Liaqat killed Major Sinha. I did not command him to kill Sinha," he said.
When the court asked him to explain why sub-inspector Nandadulal Rakshit had said otherwise in his statement, Pradeep said: "I did all this upon the directives of SP Masud."
Contacted, Superintendent of Police ABM Masud Hossain said he had heard that Pradeep had tried to deflect blame but did not want to comment further.
The court observed that "even in this eleventh hour, Pradeep's declaration is conspiratory, deceptive and a final try to make Liaqat a scapegoat."