Arsa leader's brother Shah Ali sued in 3 cases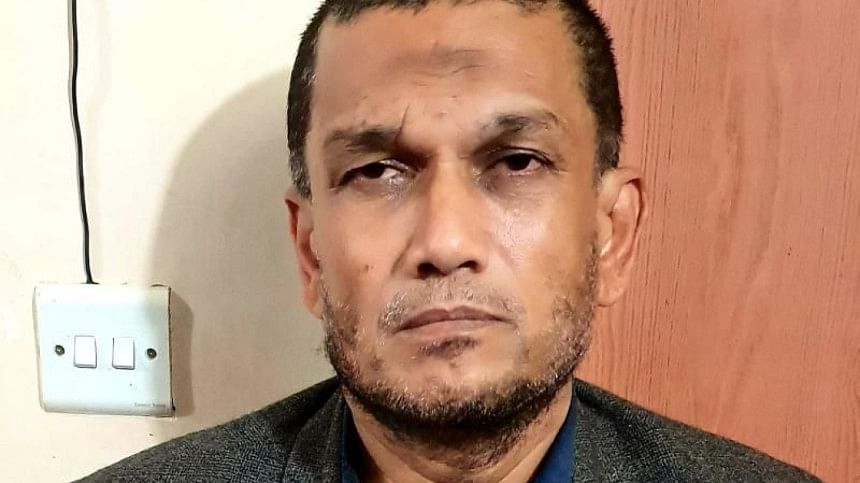 Three cases have been lodged against Mohammad Shah Ali, brother of Ataullah Abu Amar Jununi -- a commander of Arakan Rohingya Salvation Army (Arsa) -- for possessing illegal arms, narcotics, and in connection with an abduction, with Ukhiya Police Station.
The arrestee was handed over to Ukhiya Police Station on Sunday evening after being quizzed. Then APBn filed two cases against him and one Mohammad Zobayer in connection with possessing illegal arms and narcotics. Another case was filed against the duo over abduction by one Mohammad Saleh, the victim, said Sanjur Morshed, officer-in-charge of the station.
Mohammad Zobayer (25) is absconding, the OC said.
Today, Shah Ali was produced before a Cox's Bazar court -- shown arrested in the cases. The court ordered to send him to the district jail, OC Sanjur also said.
During questioning, Shah Ali admitted to his involvement in narcotics trade and possessing illegal arms, he added.
Md Ruhul Azam, a sub-inspector of APBn, filed the arms and narcotics cases against Shah Ali and Zobayer. The Daily Star has collected copies of the case statements.
According to the case documents, Shah Ali has a Bangladeshi national identity (NID) card which states that he hails from Chattogram metropolitan's Kotwali area while his present address is at Rohingya camp-6 in Ukhiya of Cox's Bazar.
The case documents mention him as an "identified member of Arsa, an armed terrorist, a drug dealer and abductor".
Shah Ali is also an accused in a case filed under anti-terrorism act with Dhaka's Hazaribag Police Station in 2019. He is now on bail in that case.
An Armed Police Battalion (APBn) team arrested Shah Ali (55) using drone technology from Rohingya camp-6 in Ukhiya of Cox's Bazar around 4:00am on Sunday.
The law enforcers recovered Tk 1,10,00 in cash, locally made weapons, and yaba pills from his possession and rescued Mohammad Saleh, an abducted Rohingya youth, from the hideout. 
It was alleged that members of Arsa, a banned militant organisation in Myanmar, were behind the murder of popular Rohingya leader Mohib Ullah, who was killed in a camp on September 29 last year, and the killing of six Rohingya men a month later.
However, law enforcers repeatedly denied any existence of Arsa activities in the Rohingya camps.