3 beaten to death in Narayanganj: two cases filed, families block road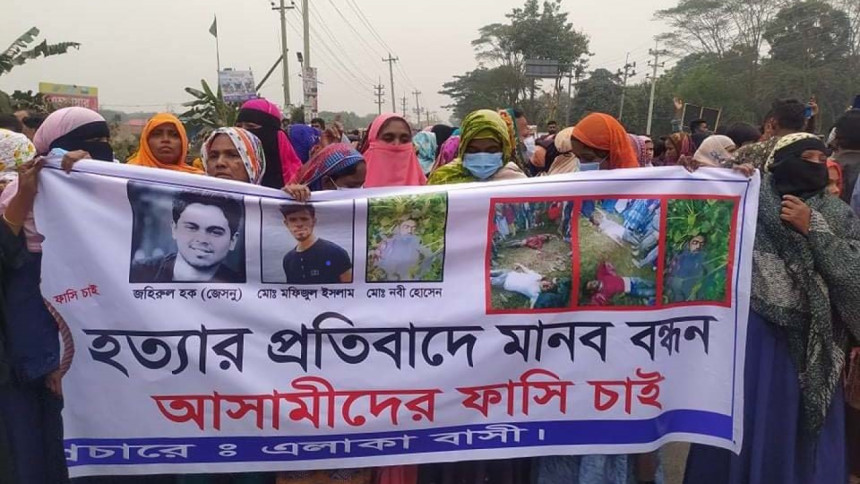 Two cases have been filed in connection with the death of three people by mob beating, suspecting them to be robbers, in Narayanganj's Araihazar upazila yesterday.
The cases were filed at Araihazar Police Station today, said the police station's officer-in-Charge Anisur Rahman, reports our Narayanganj correspondent.
One was filed by Fakir Fashion factory's bus driver Md Hanifa and another was filed by the police station's Sub-inspector Abdur Rahman Dhali, said the OC.
One case was filed for murder and the other for robbery. In the murder case, 200 to 250 unknown people have been made accused. In the robbery case, three named persons and 14 to 15 unidentified people were made accused, according to police.
Meanwhile, the victims' family members and locals demonstrated blocking a road in Sonargaon upazila around 11:00 am today.
They blocked the road for about an hour. When police assured them of justice, the demonstrators withdrew the blockade, reports our correspondent..
Three persons were beaten to death by locals, suspecting them to be robbers, in Narayanganj's Araihazar upazila.
Locals apprehended and beat them mercilessly as the trio allegedly attempted to rob a bus, carrying garment workers.
Two of them died on the spot and another passed away on the way to a local hospital, police and locals said.