2 cases filed against Mahiya Mahi, husband in Gazipur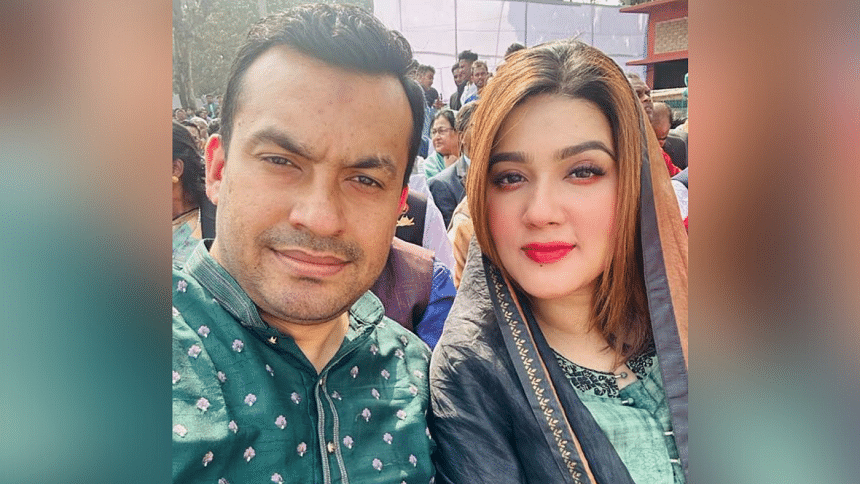 Two cases have been filed against popular film actress Mahiya Mahi and her husband -- on charge of "defaming police" after going live on Facebook, and alleged involvement in extortion and assaulting a businessman.
Rokon Mia, sub-inspector of Bason Police Station, filed a case under Digital Security Act against Mahi and her husband Rakib Sarkar while Ismail Hossain, a businessman, filed the other case on Friday night with the police station against 28 people including the couple on charges of assaulting, vandalism and forcibly occupying land.
Abu Torab Mohammad Shamsuddin, deputy commissioner of Gazipur Metropolitan Police, said police filed the case against the couple for "tarnishing the image of police, including Gazipur Metropolitan Police Commissioner Molla Nazrul Islam", after going live on Facebook.
"Legal action will be taken against them after investigation," he said.
According to the case statement, Mahi, from her Facebook page, went live early Friday -- making allegations against police.
During the live session, she said Ismail Hossain and Mamun Sarkar, through their people, carried out an attack on a showroom, Sony Raj Car Palace, on Dhaka-Tangail highway near Bhawal Badre Alam Government College.
The actress and her husband also alleged that the Gazipur Metropolitan Police commissioner "supported the attackers" after taking bribe.
She also said she feared getting arrested after returning to the country from Makkah. During the Facebook live, Mahiya's husband Rakib alleged that police arrested security guards of the car showroom.
Meanwhile, Ismail Hossain, owner of Rod Binding Factory in Itahata area of Gazipur city, in his complaint said he has been running a factory in the area for the past ten years after purchasing land there.
On Friday, some people on behalf of Rakib and Mahiya attacked and vandalised the factory, he said. They also beat up five people at the factory, leaving them injured, while trying to occupy the land, according to the complaint.
Contacted, Molla Nazrul, Commissioner of Gazipur Metropolitan Police, said, "Actress Mahiya Mahi brought allegations against police on Facebook and tried to draw sympathy through lies."