Tulip gardens in Panchagarh can boost regional economy, tourism
A remote village in Panchagarh's Tentulia upazila is now abuzz with visitors from various parts of Bangladesh after eight farmers harvested high-value tulip flowers under a pilot scheme.  
The successful cultivation of the flower, considered a popular ornamental plant across the world, shows the prospect of boosting tourism and the regional economy.  
While speaking to The Daily Star at Sharialjoth village, visitors expressed their joy after taking a look at the captivating beauty of the blooming crop.
"When I was a student of high school, I first saw the tulip gardens on silver screens," said Chondona Ghosh, an entrepreneur, who came with a group of friends from Thakurgaon to visit the spot. 
Habib Md Ahsanur Rahman Pappu, a businessman, said: "It is amazing that tulip is now being grown in Tentulia."
He recalled that he spent a day in a tulip garden in India in 2012. 
Eight marginal farmers cultivated the flowers under a pilot project initiated by the Eco Social Development Organisation (ESDO), a non-governmental organisation, with financial backing from state-run Palli Karma-Sahayak Foundation and the International Fund for Agricultural Development.
The farmers collectively contributed about 40 decimals of land in three separate spots, where around 40,000 bulbs were planted on January 1. The flowers started blooming after 21 days, said Aynul Haque, the project coordinator of the ESDO. 
Six varieties of tulips in twelve colours were planted this season, including Antarctica (white), Dutch Sunrise (yellow), Purple Prince (purple), Milkshake (light pink), Barcelona (dark pink), Addram (orange), Replay (orange), Denmark (orange), and Strong Gold (yellow).      
Four female farmers -- Morsheda Begum, Hosne Ara, Monowara Begum, and Khadija Begum – jointly cultivated 20,000 tulips on 20 decimals of land. They said the cultivation has been successful so far as the flowers have bloomed.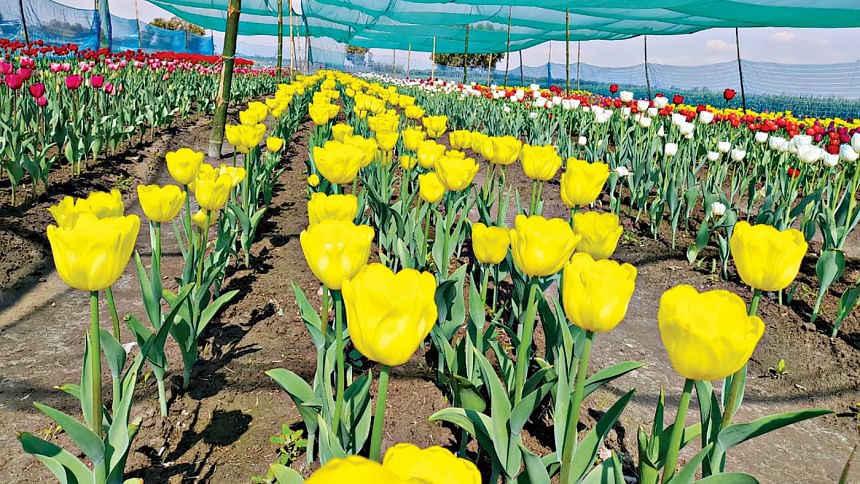 A huge number of visitors are flocking to the village every day to have a look at the flowers. Many of them are buying each plant at Tk 100.
Md Jahangir Alam, upazila agriculture officer of Tentulia, said Bangladesh's weather is generally not suitable for tulip cultivation, but Tentulia's temperature during the winter season stays at around 20 degrees Celsius throughout the day, so the crop has been successful.
At least 1,000 bulbs can be cultivated on a decimal of land. If a farmer sells a plant at a profit of Tk 10, they will be able to post a profit of Tk 10,000 using a small piece of land, he said.
Alam said acidic, sandy-loamy soil with a pH of between six and seven is ideal for growing tulips, which require a daytime temperature below 20 degrees Celsius and a night temperature of five to 12 degrees Celsius during the growth period.
Panchagarh's weather is suitable thanks to its prolonged winter, he added.
The bulbs were brought from the Netherlands at a cost of Tk 61.80 apiece.
The plants are being sold in the flower markets in various districts, including Rangpur and Dhaka, according to Aynul Haque.
Md Shahid Uz Zaman, executive director of the ESDO, says in recent years, a good number of visitors from different parts of the country have come to Tentulia to catch a glimpse of Kanchenjunga, the world's third-highest mountain peak.
"If the tulip cultivation goes ahead as planned, it would be an additional attraction to tourists and promote the northern region's tourism sector, which will play a vital role in improving the lives of the locals."
As winter lasts for about four months of the year in Tentulia, the temperature is almost perfect for tulip cultivation, he said.
The ESDO is helping growers supply their produce to various flower markets and plans to help them cultivate other flowers during the rest of the time of the year so that they can survive economically.