Mulching method gaining popularity among farmers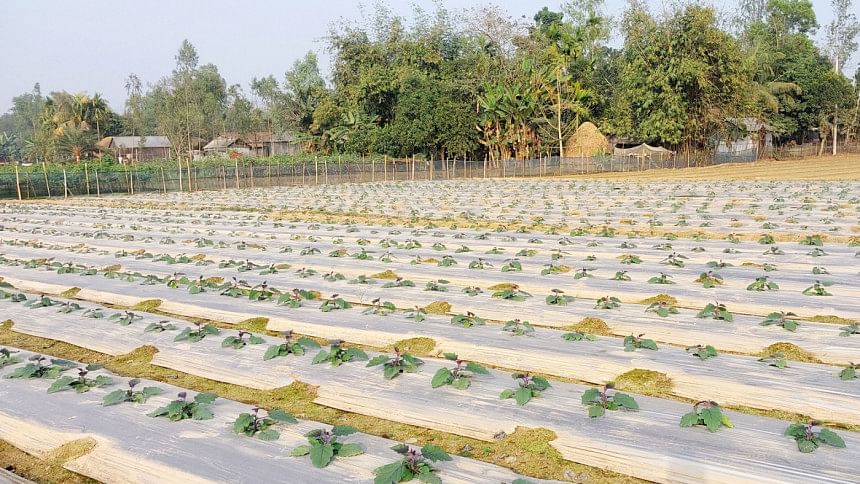 Mulching method, a modern farming technic for producing quality vegetables and fruits, is gaining popularity among farmers in Tangail region nowadays.
It is an advanced farming method that results rapid growth of crops and vegetables. Besides, the soil is covered with mulch. Mulch is a layer of material, such as leaves, straw, grass clippings, wood chips, or other organic matter, that is spread over the soil surface around plants to conserve moisture in the soil, suppress weed growth, moderate soil temperature, reduce erosion, and improve soil fertility.
Mulching is a technique of covering the surface of the soil around the plants with organic or synthetic mulch so that moisture remains on the soil and no extra labour is required for taking care of the crops or vegetable plants.
According to the Agriculture Department, mulching is an environment friendly method for cultivating vegetables and fruits in China and Japan.
Mulching method has been used by our ancestors for years, agriculturists said.
Alamgir Hossain, a farmer from Kuragachha in Madhupur upazila, has been applying mulching method in various vegetables like brinjal, bottle guard, cucumber, borboti and chichinga.
"I export chemical-free vegetables to Europe. I use organic fertilisers and also apply different modern farming technologies," Alamgir said.
Madhupur Upazila Sub-Assistant Agriculture Officer Tapas Kumar Sarkar said not only Alamgir, but many other local farmers are applying mulching technic in different vegetables and fruits cultivation.
He said use of mulches helps to avoid spread of weeds in the croplands, preserve soil moisture, prevents insects by reflecting sunlight through the mulching paper and improves the quality of the plants.
Although mulching is a bit costly, it saves labour costs and same mulching paper can be used for growing multiple vegetables or fruits, Tapas added.
Madhupur Upazila Agriculture Officer Al Mamun Rasel said they have been motivating local farmers to use mulching method for producing quality vegetables and fruits.
University student Shakil Ahmed Shuvo, also a young farmer from Delduar upazila, said he has been getting success by using mulches to grow different vegetables like squash, cucumber, papaya, capsicum and watermelon.
Though use of mulching technic began in the country a few years ago, farmers in Tangail are still lagging behind, said Shakil, also director of FarmNet.Asia, an organisation that motivates farmers in adopting modern farming technologies.
He added that a roll of mulching paper can cover up to 20 decimals of the land and can be used for various fruits and vegetables for nearly two years, but it costs Tk 5,600 in Bangladesh because it must be imported from abroad. A roll of 500-metre-long, 4-metre-wide paper costs between Rupees 1,200 and 1,500 in India.