Farmers opting out of sunflower cultivation
Lack of a good marketing network to blame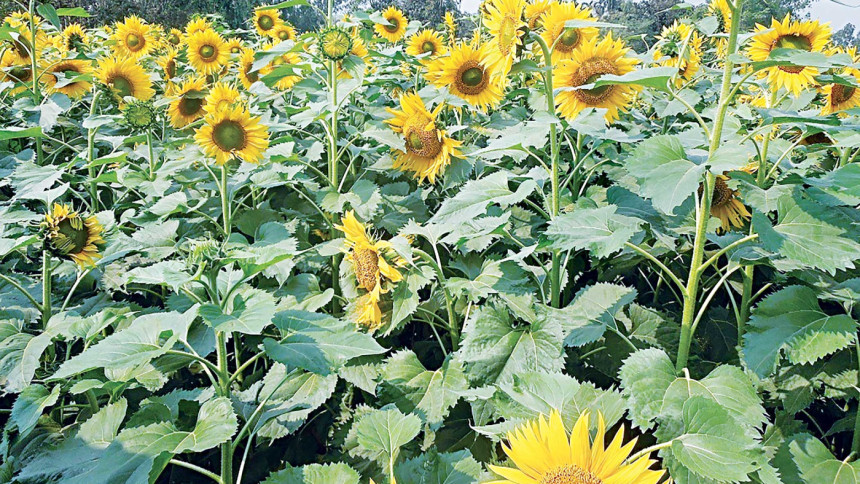 Although sunflower cultivation previously gave the hope of better economic prospects while also delivering healthy edible oil to the common people, farmers are losing interest in the plant for want of a good marketing network.
Edible oil can be produced by pressing sunflower seeds, which are rich in saturated fats and vitamin-E. Sunflower oil is usually sold at a high price in super shops.
But since there is a lack of seed buyers at the grassroots level, farmers are compelled to sell the seeds to seasonal traders at low prices, making them turn away from its cultivation.
Besides, before sunflower cultivation began last year, officials of the Department of Agricultural  Extension (DAE) made a commitment that they would help farmers to get fair prices.
However, this promise has been left unfulfilled, according to farmers.
DAE sources informed that last year, sunflower was cultivated on 2,184 bighas of land to get a yield of 530 tonnes of seed as the government provided farmers hybrid seeds and fertilisers free of cost under the agriculture incentive and rehabilitation programme
The then deputy director of the DAE in Nilphamari, Obaidur Rahman Mondol, now in Rangpur, said they gave incentives to sunflower farmers not only for their economic benefit but also for attaining the country's self-sufficiency in producing edible oil.
Due to these drawbacks, farmers cultivated sunflowers on just 23 bighas of land this year, the sources said.
Sheikh Golam Rabbani, a farmer of Purba Gurguri village in Sadar upazila, grew sunflowers on 17 bighas of land last year to get 135 maunds of seed (1 maund= 40 kilogrammes). 
" Before cultivation, DAE officials had assured us they would arrange buyers to purchase our product at the current market price of Tk 3,200 per maund," he said.
"As I found no genuine buyer in the local market and no support from the DAE for managing fair prices, I was compelled to sell the product to seasonal buyers at only Tk 1,800 per maund."
"But if get fair prices, I'll cultivate it in double the area," Rabbani added.
Sayed Ali, a farmer of Kundopukur village, said the DAE provided them with RDS-275 variety hybrid seeds at two kilogrammes per bigha and 20 kilogrammes of chemical fertiliser as incentive.
Sunflower farmer Rabiul Islam Babu, also vice chairman of the Kishoreganj upazila parishad, said that he was upset at earning just Tk 30,000 from selling 24 maunds of sunflower seeds.
Farmers Nirmal Roy of Koya Mistripara village in Saidpur upazila, Alamgir Hossain of Purba Shimulbari in Jaldhaka, Nurul Huda of Nitai in Kishoreganj upazila, among others, said that they are eager to cultivate sunflowers but will refrain from it until buyers are available.
They informed that the cultivation cost per bigha ranges from Tk 6,000 to Tk 6,500 and an average yield of eight maunds is produced in 110-120 days.
So, it would be easy to cultivate the crop after harvesting other crops such as paddy.
If farmers get the current market price of Tk 3,200, then they can sell their product for a neat profit of about Tk 18,000 per bigha harvested, they added.
Abu Bakkar Siddique, deputy director of Nilphamari DAE, said sunflower farmers were given seed and fertiliser as incentives last year under a government drive to boost oil crop cultivation.
"Allegations of non-cooperation among sunflower farmers is not true though as we brought a good part of some farmers' seeds to Dhaka by trucks to sell at Tk 2,000 per maund," he said.
"As a newly introduced crop, it's stable market is developing fast as sunflowers have immense potential and at the same time, farmers want tools to crush the oil crops themselves," he added.