25pc rise in rice output by 2050
Govt sets the target to feed the additional population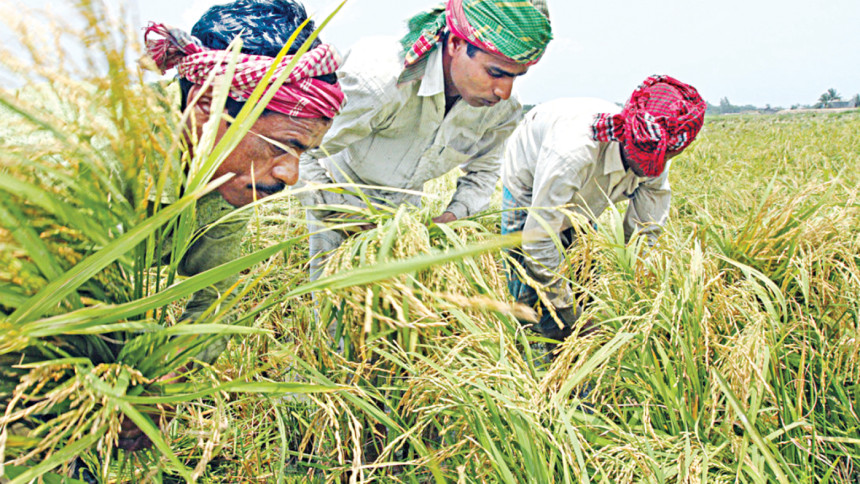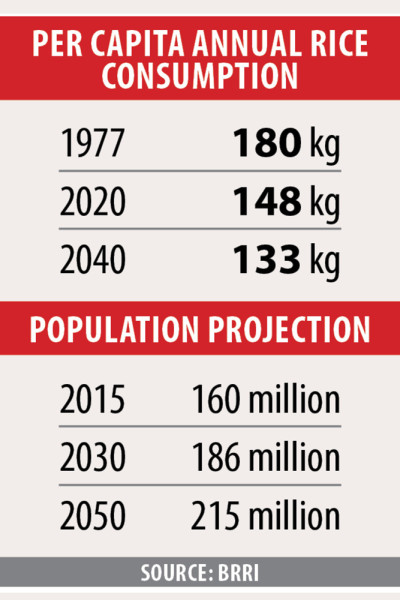 The government has targeted a 25 percent increase in rice production by 2050 by combining the efforts of farmers, rice scientists and agricultural officials to feed the additional population.
A group of researchers has prepared the "Rice vision for Bangladesh: 2050" calculating the projected population by 2050, assessing the state of cultivable land, annual rise in rice production and climatic condition.
Production of the staple will be increased by raising genetic gain,cultivating uncultivated land, mechanising agriculture and ensuring fair price of crops, said researchers.
At a seminar yesterday in the capital, Bangladesh Rice Research Institute (BRRI) presented a strategic paper on how to increase rice production. It also unveiled the cover of a book titled "Doubling Rice Productivity (DRP) in Bangladesh". The book is an outcome of two years' work by 40 researchers.
Presenting the research at the seminar, BRRI Director General Shajahan Kabir said the Department of Agricultural Extension (DAE) would have to play an important role in this regard by promoting rice seeds of high-yielding varieties among the farmers.
The DAE would have to arrange exhibition plots of high-yielding rice varieties and monitor the overall process so that farmers preserve at least 35 percent of their produce as seeds and distribute it among other growers, he added.
The BRRI organised the seminar on the occasion of "Mujib Borsho".
Shajahan said the DRP is a model concept for sustainable rice production for the next 30 years. It is not necessarily a model to double the rice production, but to double labour productivity and increase the production on a piece of land.
Following the model, Bangladesh will fulfil the Sustainable Development Goal by 2030 and become a developed country by 2041, he said.
Researchers said it is possible to raise the country's rice production to 40.7 million tonnes by 2030, 43.9 million tonnes by 2040 and 46.7 million tonnes by 2050.
The country produced 37.4 million tonnes of rice last year, according to BRRI data.
Researchers found 17 ecotypes of rice for different ecosystems in the country.
Bangladesh will have to feed an estimated 215.4 million people in 2050. The current yearly consumption of rice is 148kg per person, which is decreasing by 0.7 percent every year. So, it is expected that the annual consumption of rice would be 133kg per person by 2040.
Currently, the production of rice is increasing by 0.34 percent each year. At this rate, the country's rice production may reach 47.2 million tonnes in 2050.
As per the model used by the researchers, 44.6 million tonnes of rice would be required for the country in 2050.
Considering all environmental odds, researchers have set a target to produce9.8 tonnes of Boro per hectare, 6.2 tonnes per hectare in drought infested areas, 7.3 tonnes in flood affected and 8.1 tonnes in salinity affected areas by 2030.
Speaking at the event as chief guest, Agricultural Minister Muhammad Abdur Razzaque said the book published by BRRI would work as a guideline to increase rice production in Bangladesh.
Today, Bangladesh ranks third in rice production in the world. The country is now self-sufficient in food production. It only became possible by following the agriculture policy adopted by Bangabandhu Sheikh Mujibur Rahman.
Shamsul Alam, state minister for planning, Humanth Bhandari, representative of International Rice Research Institute (IRRI), Md Asadullah, director general of DAE, and Sheikh Mohammad Bokhtiar, executive chairman of Bangladesh Agricultural Research Council, addressed the seminar, with agriculture ministry Senior Secretary Mesbahul Islam in the chair.