Road Safety Movement: Cops sue 800 for vandalism, arson
Protesters decide 'no roadblock' today for HSC exams; child run over in Savar, sparking more protests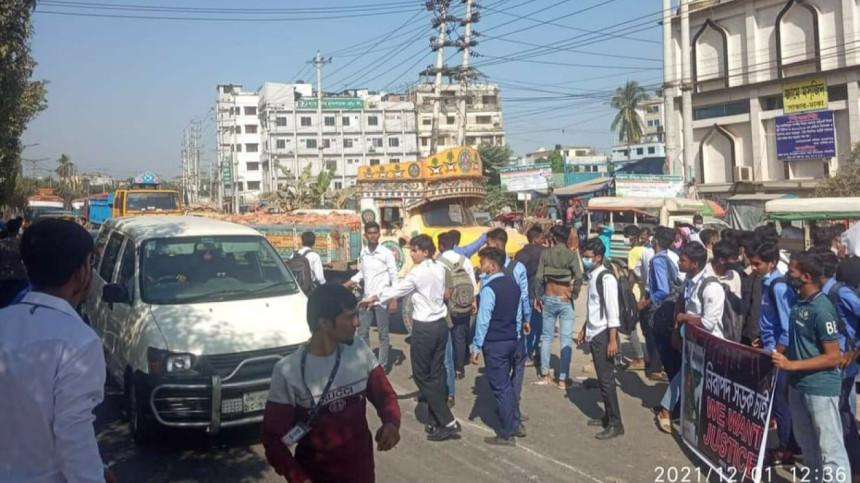 When students were continuing their demonstrations demanding safe roads nationwide, a child returning home from school was run over by a pickup truck in Savar yesterday.
Eight-year-old Allama Atique, a first grader of Savar's Morning Glory School and College, was crossing the Dhaka-Aricha highway in Pakiza area around 11:30am when he was run over.
He was crossing the road after being dropped off by his school bus. Allama was rushed to Enam Medical Collage Hospital with critical injuries.
As the news spread, hundreds of students from several schools and colleges in Savar started demonstrating  by blocking the highway and demanded immediate arrest of the driver involved.
Kazi Mainul Islam, officer-in-charge of Savar Police Station, said they were yet to identify the pickup.
Meanwhile, police lodged two cases against 800 unnamed students and people for the vandalism and torching of buses during protests over the death of student Mainuddin Islam, who was run over by a bus in the capital's Rampura on Monday night.
In one of the cases filed with Hatirjheel Police Station, police claimed that petrol bombs were used and that police recovered 2.5 litres of octane in five bottles from the spot.
The protesting students yesterday vowed to continue their movement for safe roads.
In the capital, hundreds of students in Rampura, Shantinagar, and Johnson Road in Old Dhaka demonstrated throughout yesterday.
They said even though the government enacted the Road Transport Act-2018 following the previous road safety movement, the law was yet to be implemented.
As students started stopping vehicles and checking the licences and registrations at Rampura intersection, it became apparent how many vehicles did not have fitness certificates.
At least six police vehicles had no valid papers.
Traffic sergeants were reluctant to slap fines on them yesterday. Students had to protest for an hour to compel the cops to fine a policeman driving without licence and number plate.
DEMONSTRATIONS, 11-POINT DEMAND
The students in Dhaka will not block roads today as Higher Secondary Certificate examination begins. However, students will form hour-long human chains at noon and observe two minutes' silence to press home their 11-point demand tomorrow, said Khilgaon Model College student Shohagi Samia on behalf of the students.
The students raised their 11-point demand during the demonstration yesterday in Rampura Bridge area.
People involved in the deaths of Notre Dame College student Nayeem Hasan and Ekramunnesa High School student Mainuddin Islam must be brought to justice and their families must be compensated fairly, they demanded.
Their other demands include 24/7 half fare for students guaranteed by an official notification and applicable in all public transport nationwide, increasing the number of BRTC buses.
They said bus owners should be held accountable for fitness and registrations of vehicles, and unlicensed drivers.
The protesters also said to prevent reckless competition among buses, one bus company should be assigned on a single route and daily earnings should be distributed among all transport owners based on their share.
They demanded streamlining the entire transport system, making sure that all buses have ticket counters, and labour rights for drivers, including maximum six hours a day driving time.
Trucks, garbage trucks, and other heavy vehicles should only be permitted to operate between midnight and 5:00am, they said.
"VESTED QUARTER DESTABLISING COUNTRY"
Information Minister Hasan Mahmud yesterday said some people were trying to destabilise the country using the students.
"Those who aren't students carried out arson attacks on buses after the death of a student in the city's Rampura area. Is it an accident or a preplanned incident? Everything will be clear after investigation and legal steps will be taken against those involved in the incident," he said while talking to reporters at the secretariat.
Terming the death of Mainuddin in Rampura unfortunate, the minister said, "The incident occurred around 10:45pm and it was found live on many Facebook pages, including Nirapad Sarak and Basher Kella. How did they stream live reaching the spot within 11-12 minutes? Were they present on the spot before the incident occurred?"