At least find my son's body
Says father of 12-year-old Kamal who fell into an open drain in port city on Monday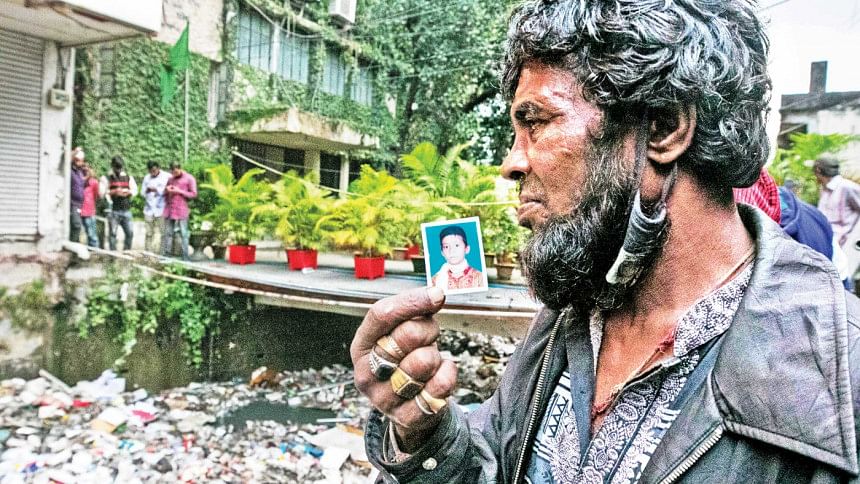 "I called for help from everyone. Local shopkeepers. The police. But no one would come forward."
 "I had to go down the drain myself, but returned empty-handed," said Md Kausar, father of 12-year-old Kamal who went missing inside a Chattogram drain on Monday afternoon.
"If you couldn't save him, at least find my son's body," he said in a despondent tone.
As of the filing of this report yesterday night, a search operation by the fire service was still on. A fire service personnel told this correspondent, "We will keep looking until we find the body."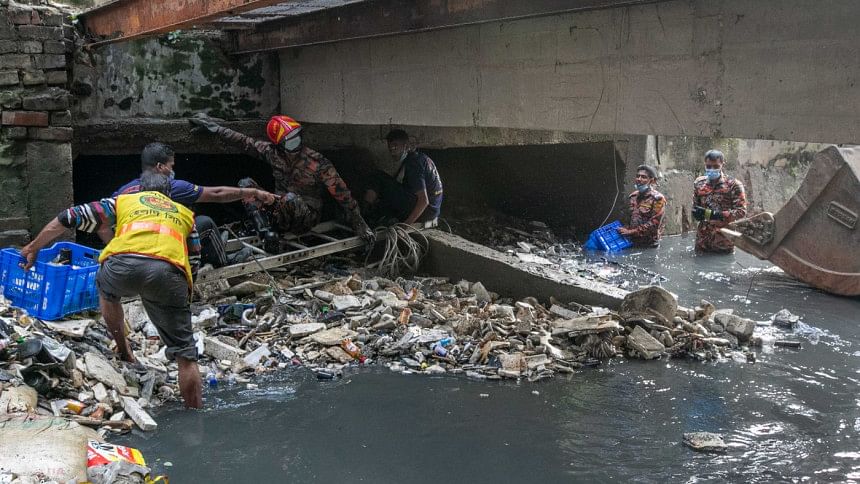 A day-labour by profession, Kausar said Kamal was the youngest among his two sons and a daughter.
Kamal went missing in the drain while playing in the area with a friend, Rakib. Both had fallen into the open drain around 4:30pm. Although Rakib managed to get out, Kamal could not.
Located in the port city's Sholashahar Railway Station area, this is the same drain where 55-year-old vegetable trader Saleh Ahmed disappeared on August 25.
This is the third such incident over the last three months for Chattogram.
Experts believe that due to lack of solid waste management, drains in the city have turned into waste dumps. As a result, the risk of death is multiplied if someone falls into a drain.
Shafiqul Islam, a fire service personnel who came to rescue the child, said, "Although the drain is 10-12 feet deep, it is clogged with waste."
Chittagong town planner engineer Subhash Barua said, "If the drains were clean, the missing could be quickly rescued from any point of the drain."
On September 27, university student Seherin Mahbud Sadia (19) fell into a ditch at the Mazar Gate area of ​​Agrabad. Her body was found about four and a half hours after she went missing.
A month earlier on August 25, elderly vegetable seller Saleh Ahmed went missing after falling into the same drain where Kamal died.
 On June 30, two people died when a CNG-run auto rickshaw fell into another drain in Sholashahar area.
The tragedy stretches much further back. In 2020, two children died after falling into the Maheshkhal canal in Halishahar area, while in 2017, a government official died inside a drain near Shilpakala Academy.
A seven-year-old boy died similarly in a Baizid area drain on June 2018, while two others died as a CNG-run auto rickshaw plunged into a drain in Agrabad-CNB area on July 2015.