Launch fire tragedy : Hafsa set to get married, albeit with a heavy heart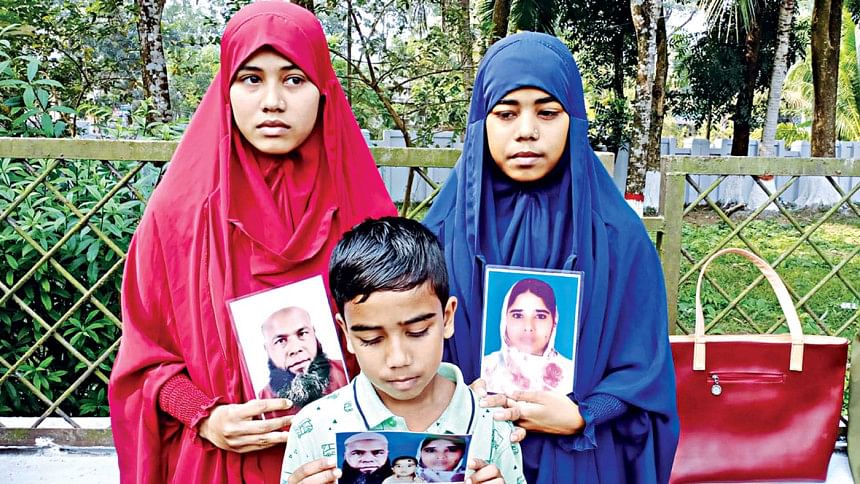 The eldest daughter of Pakhi Begum and Abdul Hakim, passengers of MV Abhijan-10 who went missing since the tragic launch fire, Hafsa (18) is set to get married on Friday.
Her parents had gone to Dhaka along with their one-year-old son Nasir Ullah to shop for Hafsa's wedding. They had planned to return home and set the date for Hafsa's marriage.
Their three children Hafsa, Sumaiya and Fazlul Karim told this correspondent in a despondent voice while standing in front of the circuit house in Barguna yesterday noon, with pictures of their missing family members in hand.
Hafsa's grandmother Farida Begum said despite searching relentlessly, they are yet to trace the missing trio.
Hafsa's uncle Nazrul Islam said the future of Hafsa, Sumaiya and Fazlul has become uncertain following the tragedy. "If we could find their bodies, it would bring us some solace," he said.
Meanwhile, another launch passenger Jahanara Begum, an assistant teacher at North Kismat Srinagar Government Primary School in Mirzaganj of Patuakhali, has also gone missing since the tragic launch fire. Her husband Selim Akon is undergoing
treatment in Dhaka in critical condition.
Jahanara Begum's elder brother Muzaffar Hawladar said the couple had gone to Dhaka a few days ago for treatment. They were returning in MV Abhijan-10.