Crowd of onlookers 'the main obstruction': fire service DG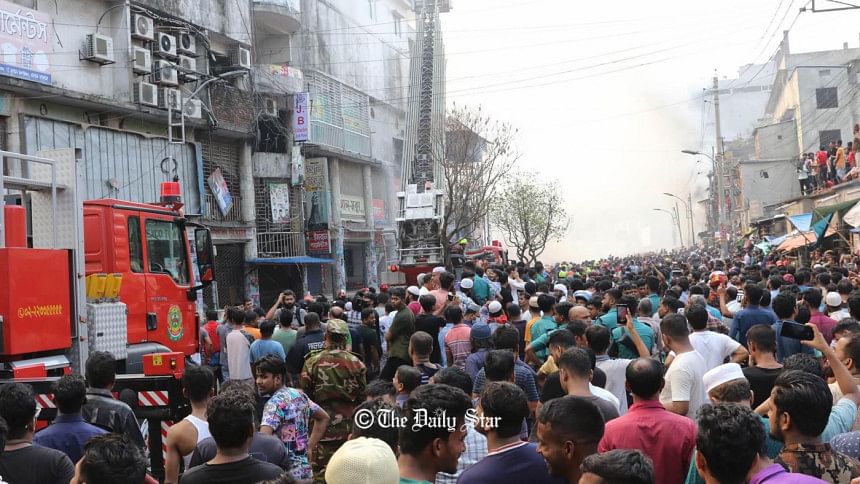 The crowd of onlookers was the biggest hindrance to firefighting efforts and caused a delay in bringing the devastating fire at the Bangabazar Shopping Complex under control, said the fire service director general.
Replying to a query, Brig Gen Md Main Uddin, director general of Fire Service and Civil Defence, said the enthusiastic crowd was the main obstruction in controlling the fire.
He was briefing reporters on the spot after 48 firefighting units brought the blaze under control around 12:36pm. The fire had started at 6:10am.
Apart from fire service officials, members of army, navy, air force, Border Guard Bangladesh and police took part in the rescue and firefighting operations.
Several thousand people thronged the spot soon after the fire originated around 6:10am.
Many people were seen going on Facebook Live. Many were taking selfies with the fire ravaged site. The rescue teams were not able to bring in equipment and vehicles due to the crowd, witnesses said.
Police were struggling to manage the situation and crowd.
A similar situation arose when a fire broke out at a multi-storey building in Gulshan in February, leaving at least two people dead.
Extinguishing the fire and the subsequent rescue efforts were hampered due to the immense crowd blocking roads around the site.
Find more articles on the Bangabazar fire here