Chinese aircraft, ships remain around Taiwan
Says the island's defence ministry after drills end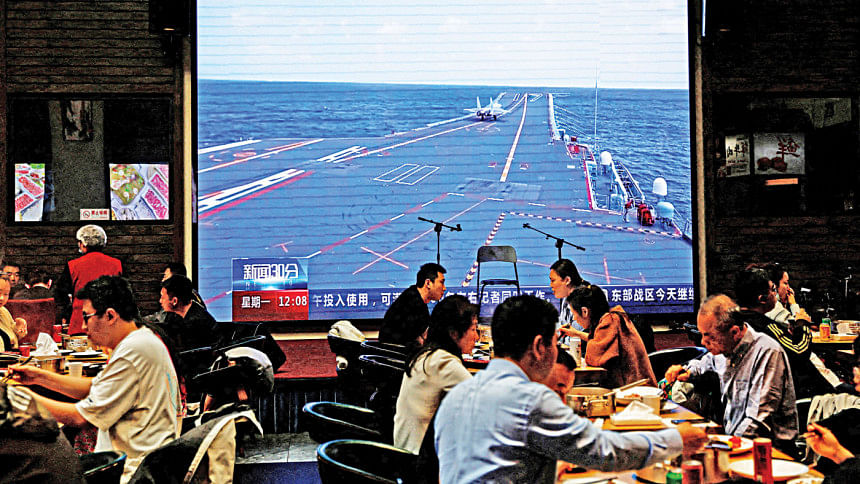 Chinese warplanes and navy ships were still in the waters around Taiwan, the island's defence ministry said yesterday after the end of three days of war games, as Taiwan President Tsai Ing-wen criticised Beijing for its "irresponsible" behaviour.
China began the exercises on Saturday after Tsai returned to Taipei following a meeting in Los Angeles with US House of Representatives Speaker Kevin McCarthy.
China, which warned the US not to allow Tsai to visit or meet McCarthy, has never renounced the use of force to bring the democratically governed island under Beijing's control. Taiwan's government strongly disputes China's claims.
Although China said on Monday night the drills had ended, Taiwan's defence ministry said it had spotted nine Chinese ships and 26 aircraft, including J-16 and Su-30 fighters, carrying out combat readiness patrols around the island yesterday morning.
Taiwan's air force, navy and shore-based missile crews are closely monitoring and responding, it added. Taiwan's government has repeatedly denounced the drills, but said it will not escalate or provoke.
Writing on her Facebook page shortly before midnight on Monday, Tsai said that as president, "I represent my county to the world", and that her visits abroad, including stops in the United States, are not new and what Taiwan's people expect.
"However, China used this to launch military exercises, causing instability in Taiwan and the region. This is not a responsible attitude for a major country in the region," she said. China simulated precision attacks and blockades of Taiwan during the drills, sending up dozens of fighter jets and bombers.
Taiwan's defence ministry said that on Monday, 91 Chinese military aircraft flew in missions around the island.