Abdul Jabbar: Inspiring the nation in '71 through songs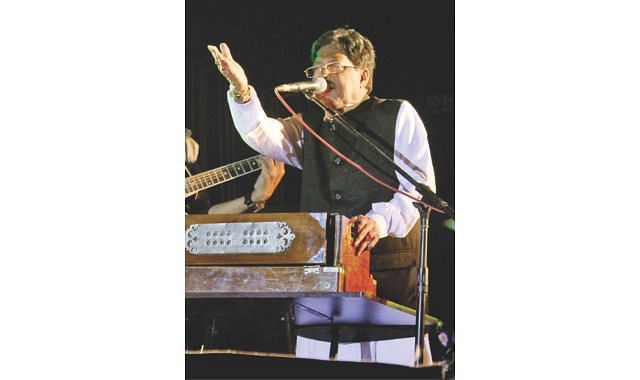 Photo: Atl aakash
Born in Kushtia in 1938, spurred on by his mother, Abdul Jabbar plunged headfirst into the world of music. In his teens, he played both football and cricket and entertained the spectators with his sonorous voice on the same ground after winning the match. Later, after passing his SSC examination in 1956, he formally learned music from Ustad Osman Gani and Ustad Lutfel Haque.
"A person with a melodious voice, will flourish sooner or later," believes Jabbar.
In 1958, he became an enlisted singer at radio and did playback for Bangla films from 1962. In 1964 when television embarked on its journey here, he was naturally signed up as his fame had grown by leaps and bounds in the meantime.
The first song he sang and composed for radio was "Hariye elam kothay bolo amar shey shathitirey", written by poet Azizur Rahman. Along with Ferdausi Rahman he recorded a duet "Tumi achho kachhey" for the film "Notun Sur", directed by Ehtesham.
For the film "Etotuku Aasha", Jabbar recorded the popular song "Tumi ki dekhechho kobhu", written and composed by Dr. Muniruzzaman and Satya Saha respectively.
Jabbar is credited as a playback singer of the '60s and '70s. Among them "O rey nil doriya" ("Sareng Bou"); "Khelaghar barey barey keno bhengey jaay" ("Chhadmabeshi"); "E prithibi amar proshno shono" ("Naacher Putul"); "Dukkho koro na bandhu tomra" ("Alor Michhil"); "Amon korey bolo na go tumi" (duet with Runa Laila in the film "Iman") are highly popular.
Jabbar is a freedom fighter. He inspired a nation fighting for freedom through his songs aired on Shadhin Bangla Betar Kendra (SBBK). In 1971, he met the legendary singer Hemanta Mukhopadhyay in Bombay (now Mumbai) and worked tirelessly to raise public opinion in favour of the independence of Bangladesh.
Jabbar sang the first song of SBBK, "Joy Bangla Banglar joy", written and composed by Gazi Mazharul Anwar and Anwar Parvez respectively. The other patriotic songs rendered and composed by Jabbar during the pre and post-Liberation period were "Salam salam hajar salam", written by Fazle Khoda; "Mujib baiya jao rey", written by Shafi Bangali; and "Banglar shadhinota anlo ke", written by Nawazish Ali. There are many more renditions by Jabbar that will always be treasured by the nation.
Jabbar received many prestigious awards for his outstanding works. Among them are: Bangabandhu Swarna Padak (1973), Ekushey Padak (1980), Shadhinota Padak (1996), Zahir Raihan Chalachchitra Purashkar, BACHSAS Award and Mother Teresa Award.